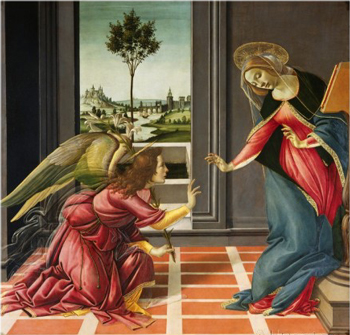 | | |
| --- | --- |
| Artist: | Sandro Botticelli |
| Created: | 1489 |
| Dimensions (cm): | 156.0 x 150.0 |
| Format: | Tempera on panel |
| Location: | Uffizi, Florence, Italy |
Annunciation
Sandro Botticelli, one of the greatest Italian Renaissance masters, was renowned for his outstanding biblical artwork. One of his most memorable pieces is the 'Annunciation' (also known as Cestello Annunciation) created in 1489. This painting was said to be Botticelli's adaptation of the bible scene in which the angel Gabriel brings the message to Mary of the Holy Ghost's approaching visit.
Analysis
Botticelli's use of the "Brunelleschi's perspective" is obvious at first glance. The viewer is able to look through the room, past the two figures, and out of the back window into the far-off landscape. The room's color scheme enhances this perspective - the bold red floor creates a significant contrast against the dark grey of the wall. The spirited poses of the figures produce a strong sense of engagement between them, rendering the scene a pivotal moment. The angel's raised hand and open mouth lead us to believe that the message from God is being revealed at that very instant. The numerous folds in the messenger's robe allude to a sweeping entrance. Mary is positioned with her arms outstretched, her body slightly turned as though genuflecting in awe.
Interesting Details about the Art Work
• Written in Latin across the bottom of the original frame are the words from the Gospel according to Luke: "The Holy Ghost shall come upon thee, and the power of the Highest shall overshadow thee."
• The painting was commissioned by the Church of the Florentine Convent of Cestello in 1489, which is now currently known as Santa Maria Maddalena de'Pazzi. (wikipedia) However, during a re-decoration period, many alter pieces were removed including 'Annunciation' by Sandro Botticelli.
• Painters of the early renaissance era generally used tempura paint as their medium because of its fast drying feature but it became outdated and many artists chose to replace tempura with oil paint around c. 1500.
About the Artist
Sandro Botticelli was born Alessandro Di Mariano Filipepi in 1445. It is said that he derived his name from his older brother, Giovanni, a pawnbroker who was often addressed as Il Botticelli (The Little Barrel).
Botticelli's works were fairly ignored until long after his death in 1510. They were re-discovered during the 19th century and today many of his pieces are recognized as exemplifying the elegance and refinement of art during that period.
'Annunciation' is currently located at the Uffizi Gallery in Florence, Italy.
Home | Art Prints | Art Movements | Famous Artists | Articles