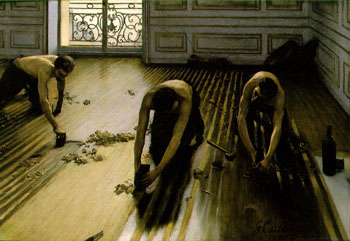 | | |
| --- | --- |
| Artist: | Gustave Caillebotte |
| Created: | 1875 |
| Dimensions (cm): | 146.5 x 102.0 |
| Format: | Oil on canvas |
| Location: | Musee d'Orsay, Paris, France |
French painter Gustave Caillebotte, known for his unusual perspectives and scenes from everyday life, created 'The Floor-Scrapers', originally titled 'Les Raboteurs de Parquet'. Three workmen, bare to the waist, toil to strip the varnish off the floor of what is said to be the artist's residence. The artist's unusual perspective (a little too modern for its time), and the light reflected on sections of the floor and the workers' backs emphasizes the artist's intention to convey the action and intensity of its subjects, the working-class.
According to exhibit commentary at the Chicago Art Institute, the subject matter in 'The Floor-Scrapers' was so shocking that it was refused exhibition at the Official Salon. The artist's choice to portray the lower-class subjects in his paintings caused quite a controversy with the Salon Jury which rendered their decision to deny its admittance.
Seth Wigderson (H-Labor Moderator) suggested that, as seen in earlier Gustave Caillebotte works, there may be a double-meaning to 'The Floor Scrapers'. His theory suggests that the "stripping" of the floor may have been a metaphor for stripping away class blindness.
At the invitation of Auguste Renoir, 'The Floor-Scrapers' was featured in the second exhibition of the Impressionist group (April 1876) which earned Gustave Caillebotte high acclaim. The popularity of his paintings helped to make the second exhibition far more popular than the first. Art Critics acknowledged Gustave Caillebotte's originality but found the subjects in the painting to be troubling and strange.
Professor Michael Marrinan (Stanford Art History Department) offers a look into the humanity of the artist's work in "Caillebotte as Professional Painter: From Studio to the Public Eye". He comments: "At the right of the painting, there's a bottle of wine and a single glass. Two of the workers' heads are tilted toward each other, as though one speaks while the other listens. In such details there is humanity in this painting: a conversation while working, a drink from a shared glass." Marrinan believes the artist's use of unusual viewpoints and angles may indicate the artist's intention to visually take possession of the intimate and personally meaningful spaces. 'The Floor-Scrapers' hangs in the Orsay Museum in Paris (1875, Musée d'Orsay, Paris).
Home | Art Prints | Art Movements | Famous Artists | Articles