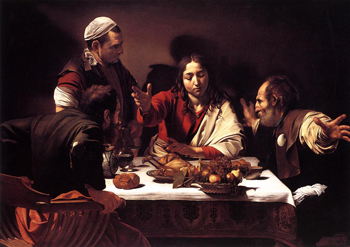 | | |
| --- | --- |
| Artist: | Michelangelo Caravaggio |
| Created: | 1600-01 |
| Dimensions (cm): | 196.2 x 141.0 |
| Format: | Oil and tempura on canvas |
| Location: | National Gallery, London, England |
Supper at Emmaus
Commissioned by nobleman Ciriaco Mattei in 1601, 'Supper at Emmaus' is perhaps one of Michelangelo Caravaggio's most intense works of art. The scene depicts a story from the Gospel of Mark (16:12) where Jesus appears to two of his disciples after his resurrection. It is written that, at first, they do not recognize him. According to the biblical passages, Jesus showed himself to his disciples in a form unfamiliar to them, which most likely accounts for Caravaggio's choice in signifying him without his typical beard – a more common portrayal of Jesus over the centuries. The facial expression of the disciples is one of surprise as they realize that the man they are dining with is their Holy mentor.
In true Caravaggio style, from the top left of the painting, a bright light falls over the dark scene, creating intimate shadows in the background and adding intense emotion to the event. It also denotes the disciples' sudden moment of revelation. The illuminated still life objects, such as the bowls, bread, and fruits on the table, all work to project a glow and emphasize the animated reactions of the subjects in the setting.
'Supper at Emmaus' was met with immense disapproval from the clergy due to the artist's realistic approach in depicting the religious figures. His representation of a slightly overweight and somewhat feminine Christ, combined with the disciples who are made to look like ordinary labor workers, forced Caravaggio to create another, more restrained version in 1606.
About the Artist
Michelangelo Merisi (or Amerighi) Caravaggio was trained as a painter in Milan under Simone Peterzano. After moving to Rome, his naturalistic approach to art and stylistic tenebrism (powerful contrasts between light and dark) soon became a novelty, bringing him substantial recognition. However, the artist did not handle his celebrity status well. He was involved in countless arguments and physical altercations that not only brought about incidents with the law, but also entailed spending time in jail.
In 1606, after Michelangelo Caravaggio killed a young man during one of his notorious fights, the Pope issued a death warrant against him; consequently, he fled Rome. In 1610, the disreputable artist was noted to return to Rome to receive a pardon, but he reportedly died from a fever en route; however, his body was never found.
'Supper at Emmaus' is located at the National Gallery in London, England.
Home | Art Prints | Art Movements | Famous Artists | Articles