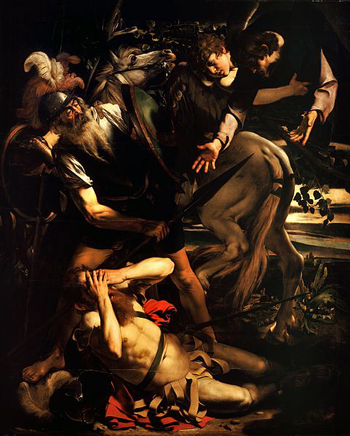 | | |
| --- | --- |
| Artist: | Michelangelo Caravaggio |
| Created: | 1600-01 |
| Dimensions (cm): | 189.0 x 237.0 |
| Format: | Oil on cypress wood |
| Location: | Cerasi Chapel, Santa Maria del Popolo, Rome, Italy |
The Conversion of St Paul
Michelangelo Caravaggio received a commission to create two paintings for the Cerasi Chapel in Santa Maria del Popolo; one was titled 'The Conversion of St Paul'. The art work well-demonstrates Caravaggio's traditional style and his signature use of tenebrism, a technique whereby large areas of dark colors are set against smaller areas of light in order to produce powerful contrasts. The piece clearly encompasses the artist's personal stylistic aspects such as the exceptional realism of the angel's face.
'The Conversion of St Paul' is a complicated biblical scene which is perhaps best appreciated when explained. It represents a particular incident, one that occurred when Saul (later renamed Paul) was on his journey to Damascus to tyrannize the Christian population. Suddenly struck by a radiant light, Paul hears the voice of Christ speaking to him, "Saul, Saul, why are you persecuting me?" Not hearing the voice but seeing the light, Paul's travel companion and horse (which monopolize the majority of the art space) are in a frenzy, attempting to guard themselves against an unknown element that conceivably strikes fear into them. An angel supports Christ as he beckons to Paul, who has fallen to the ground, appearing to be blinded by the bright light and stunned by the holy voice.
About the Artist
Michelangelo Merisi (or Amerighi) Caravaggio was trained as a painter in Milan under Titian trained Simone Peterzano. Upon moving to Rome, where many new palazzos and churches were being constructed, numerous art works were required for walls and alters, and commissions for paintings such as 'The Conversion of St Paul' were coveted opportunities for artists to boost their livelihood.
Caravaggio became instantly successful. His naturalistic approach and stylistic tenebrism became a novelty; he would be engaged for the rest of his life. However, the artist did not handle his success well. He was involved in countless arguments and physical altercations. On numerous occasions he spent time in jail and vandalized his own dwelling. As stated in a published notice in 1604, describing his previous years: "after a fortnight's work he [Caravaggio] will swagger about for a month or two with a sword at his side and a servant following him, from one ball-court to the next, ever ready to engage in a fight or an argument, so that it is most awkward to get along with him." - wikipedia. In 1606, after killing a young man during one of his notorious fights, the Pope issued a death warrant against him and Caravaggio fled Rome.
Caravaggio died in Porto Ercole in 1610, at the age of 38, under what is noted as mysterious circumstances. Reportedly, his death was due to a fever that befell him during his journey back to Rome to receive a pardon.

Home | Art Prints | Art Movements | Famous Artists | Articles