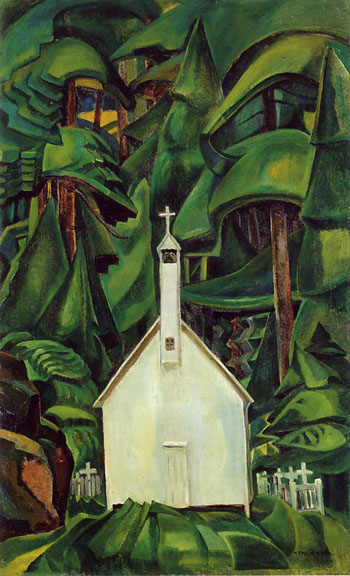 | | |
| --- | --- |
| Artist: | Emily Carr |
| Created: | 1929 |
| Dimensions (cm): | 68.9 x 108.6 |
| Format: | Oil on canvas |
| Location: | Art Gallery of Ontario, Toronto, Canada |
A trip to Nootka Island, British Columbia, Canada, inspired Emily Carr to paint 'Indian Church'. A fascination with the Pacific Coast and the spirituality of Native peoples were the perpetual driving force of her work. The artist's primitive and spiritual side shine through in this painting that symbolizes life and death. The graveyard around the church, pale in color, symbolizes death, while the rainforest of rich green tones reflects life. In her autobiography she stated "There is something bigger than fact: the underlying spirit, all it stands for, the mood, the vastness, the wilderness, the Western breath of go-to-the-devil-if-you-don't-like-it, the eternal big spaceness of it. Oh the West! I'm of it and I love it!"
Writer Lee Parsons describes 'Indian Church' in the article 'Emily Carr: Painter, writer ... symbol' as primitive with a distinctly cubist simplification of form. He comments, "Surrounded by ominous green shapes, a starkly pale Christian church is placed, more in two dimensions than three, as an intruder in a feral forest — emphasizing starkly the conflicting worlds brought together here."
'Indian Church' was one of the paintings created during the most prolific period of the artist's career, a time when Emily Carr had begun to modify her techniques, moving from watercolors to experimenting with oil on canvas. Acceptance by The Group of Seven (a group of artists who were influenced by European Impressionism) opened new doors for her. After exhibiting at the National Gallery (1927), an invitation by the Group of Seven, Emily Carr was motivated to return to British Columbia, more determined than ever to pursue her art. The lush western forests, beautiful waters and skies of the British Columbian coast became her focal point.
The 'Emily Carr: New Perspectives on a Canadian Icon' (March 3 - May 20, 2007) takes a look at Emily Carr's contribution to Canadian art. In conjunction with this exhibition, the AGO presented a series of photographs by Toronto-based photographer Arthur Renwick, whose First Nations British Columbia churches provide a contemporary look into the landscape and culture that inspired the artist to paint 'Indian Church'. 'Indian Church' resides at the Art Gallery of Ontario, Toronto, Canada.
Home | Art Prints | Art Movements | Famous Artists | Articles