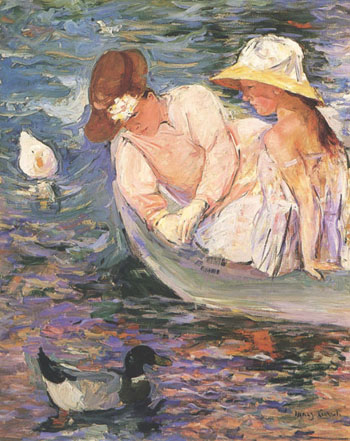 | | |
| --- | --- |
| Artist: | Mary Cassatt |
| Created: | 1894 |
| Dimensions (cm): | 81.3 x 100.6 |
| Format: | Oil on canvas |
| Location: | Terra Foundation for the Arts, Chicago, USA |
Summertime
In the summer of 1894, Mary Cassatt painted 'Summertime'. It is believed that she most likely created this oil on canvas artwork while at her cottage, the Château de Beaufresne, located in the Mesnil-Théribus countryside, approximately 50 miles northwest of Paris. The painting depicts a woman with a young child leisurely drifting on a lake or pond, possibly the small pond on the property of her cottage.
'Summertime' is a distinct composition due to its equal distribution of attention and focus on the figures and the landscape. The blue, red, orange, and green brushstrokes on the rippling water, as well as the gliding of the small duck towards the boat, produce a particular movement to the scene that attracts the viewer's attention. The figures are likewise captivating. As the woman and child lean over the edge of the boat to gaze at the waterfowl, a close proximity of the figures is formed, suggesting a devoted relationship between them, and fostering a warm, emotional response from the onlooker. The various, vibrant hues create multiple reflections on the water that emphasize the perception of depth.
Analysis
"Cassatt had completely absorbed from her Impressionist colleagues Caillebotte, Degas, and Renoir, as well as her study of Japanese prints, the modern idea that the background of a painting might be as significant as the foreground. She understood that establishing a tension between the two would capture the immediacy of vision, as well as mimic or falsify by turns, the focal shifts of human sight and perception" – Judith A. Barter, "Mary Cassatt: Modern Woman"
History of the Painting
The following depicts the historical path of 'Summertime', from its original owner to its current location:
• The artist, Mary Cassatt
• Art dealer, Ambroise Vollard in 1906
• Private collection in Paris, France until 1940
• Brigadier General M.C. Troper, Paris, France, 1940
• Descended in family to daughter until 1985
• Coe Kerr Gallery, Inc., New York, New York, 1985
• Daniel J. Terra Collection, Chicago, Illinois, 1985
• Terra Foundation for the Arts Collection, Chicago, Illinois, 1988 to the present date.

Home | Art Prints | Art Movements | Famous Artists | Articles