There are many actors out there that possess more than just acting skill; many are gifted painters, singers and dancers. Some celebrity painters include Josh Hartnett, David Arquette, and Ex-Beatle Paul McCartney.
Josh Hartnett, the next Van Gogh
When budding football star, Josh Hartnett, injured a knee ligament in high school, he turned his attention to acting and painting. Although a talented and successful actor, Hartnett says that painting was always his first passion. He even took some time off and traveled to Africa to brush-up on his oil painting techniques.
Viggo Mortenson, Renaissance Man
Best-known for his masterful portrayal of Aragorn in the Lord of the Rings trilogy, Viggo Mortenson is another celebrity painter, as well as a photographer and poet. His art has been exhibited in the galleries of New York, Los Angeles and even Greece. His most recent showing at a Los Angeles gallery drew 1,500 eager visitors. Many of Mortenson's murals were portrayed in the 1998 film 'A Perfect Murder' starring Gwyneth Paltrow and Michael Douglas. His style consists of a mish-mash of media; photographs, poems and miscellaneous objects are layered with paint and then obscured with an additional layer of color. Some of his paintings contain seemingly mundane items, such as sponges, tape, wire, rugs and nails.
André 3000: From music to Monet
Andre 3000 of the famous duo, Outkast, took the musical world by storm with catchy, upbeat songs such as 'Hey Ya!' and appealing melodies such as 'Ms. Jackson'. Known for his funky attitude and outrageous sense of style, André paints with bold colors in a surrealist style, which makes him one of the most unusual celebrity painters to seek out.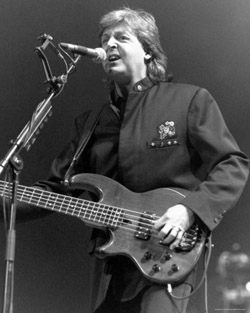 Paul McCartney: Beatle, Knight, Painter
Another gem in the endless sea of celebrity painters is former Beatle, Sir Paul McCartney. It seems McCartney is inspired by the sensuality of art, reveling in the application of the paint, the colors and textures. McCartney was inclined to pick up a paintbrush when he turned 40-years-old. Many of his works are landscapes and portraits. His painting titled 'The Kiss' was inspired by his first wife Linda, and shows two cartoon-like characters kissing - the man, who looks like Paul, is wide-eyed, seemingly caught off guard by this surprising kiss..
David Arquette Sprays it
Not only is David Arquette tremendously thrilling in the Scream series and Buffy, the Vampire Slayer, but he is also pretty handy with a can of spray paint. Aside from his many acting obligations, he is indeed quite a talented graffiti artist, having painted an ocean scene on the outside of his and wife Courtney's bedroom so they can feel like everyday is a day at the beach. David is widely known in the realm of celebrity painters.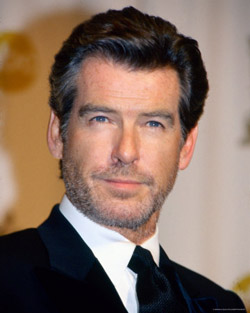 Jane Seymour, Doctor to Dilettante
Former Doctor Quinn also falls in the category of celebrity painters. Seymour's preferred medium is watercolor and oil. She first picked up painting over a decade ago, following a period of personal struggle. Turning to art enabled her healing process. Her paintings are vibrant, colorful and delicate, showcasing precision and appreciation for the art form.
Pierce Brosnan, Bond's Brushstrokes
Pierce Brosnan, who played the sexy spy James Bond in several Bond productions, was initially trained as a commercial artist. He has recently started selling his artwork in order to raise money for charity. Brosnan's specialty lies in landscapes, but he has also produced many portraits of his family. His muse is usually his wife, Keely Shaye. Both his works titled Fiji and Bisou Moi (Kiss Me) were produced as gifts for her on Valentine's Day and Christmas.

---
Donovan Gauvreau
Art Historian, Donovan Gauvreau lectures about art therapy with a focus on creativity development. He believes we can learn from the great masters in art to communicate ideas and feelings through painting. He provides content for www.AaronArtPrints.org to educate and inspire people to take a glimpse into an artist's life to better understand the meaning behind their work.
Home | Art Prints | Art Movements | Famous Artists | Articles