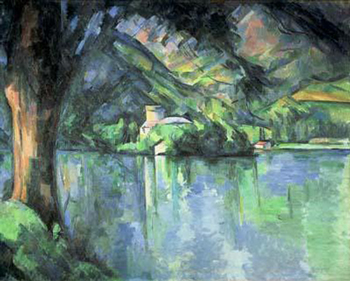 | | |
| --- | --- |
| Artist: | Paul Cezanne |
| Created: | 1896 |
| Dimensions (cm): | 79.1 x 64.2 |
| Format: | Oil on canvas |
| Location: | Courtauld Institute Galleries, London, England |
Lake Annecy
In the year 1896, while painting at Talloires upon the shores in Haute-Savoie, Paul Cezanne created 'Lake Annecy' or as it is known in French, 'Lac d'Annecy'. The artist, taken with the picturesque lake, once wrote in a letter to Gasquet, "The surrounding hills are quite lofty. The lake, which at this point narrows to a bottleneck, seems to lend itself to the line drawing exercises of young ladies. Certainly it is still a bit of nature, but a little like we've been taught to see it in the albums of young lady travellers." (Courtauld Institute Galleries)
For this painting, Paul Cézanne wisely chose a palette consisting mostly of blues and greens, colors that he included in the water in order to reflect the landscape. The effect, together with his skilful brushstrokes, produced an amplified crispness of the lake in the morning. A touch of soft yellows gives warmth to the glow of an early sunrise as it strikes the tree trunk to the left of the canvas, as well as some selected spots in the hilly landscape and the buildings at the far side of the lake.
Even though the various broad and short brushstrokes in the background unite the tree's foliage and the ground's grasses with the hills across the lake, a particular curvature to his technique creates separation and distance between them. This system of brushstrokes, while at first glance appears to be somewhat harsh, was to eventually become a prominent feature of his later art works. Cézanne once said that his intention was to bring "harmony parallel to nature", a statement especially true of 'Lake Annecy.'
About the Artist
Paul Cézanne was a French artist and Post-Impressionist painter whose artworks inspired the transition of the traditional 19th century Impressionism to the innovative and fundamentally unique Cubism of the 20th century. Both Henri Matisse and Pablo Picasso are said to have stated that Cézanne "is the father of us all." (Wikipedia)
Cézanne's paintings are characteristically recognized by their repetitive and cautious brushstrokes. This particular technique, paired with various color palettes, is testimony to a brilliant artist whose visual and natural appreciation for nature is blatantly expressed in 'Lake Annecy.' Cézanne rarely drew sketches prior to painting, yet his artwork consistently demonstrates a mastery of design, color, and composition.
'Lake Annecy' or 'Lac d'Annecy' by Paul Cézanne is currently located at the Courtauld Institute Galleries in London, England.

Home | Art Prints | Art Movements | Famous Artists | Articles