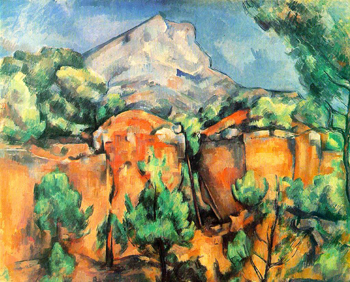 | | |
| --- | --- |
| Artist: | Paul Cezanne |
| Created: | c. 1897 |
| Dimensions (cm): | 81.0 x 65.1 |
| Format: | Oil on canvas |
| Location: | The Baltimore Museum of Art, Baltimore, USA |
Cezanne was a painter of the immobile, of things that were permanent. He preferred painting definite forms such as pears, pots, cups, bare mountains, rocks, tree trunks and houses. He treated the softer items as if they had been poured into a rigid mould like lead: the foliage of trees, clouds, and the cloth of napkins, tablecloths and curtains.
This style is well brought out in the Bibemus' Mont Sainte-Victoire. Here, the foliage is lumped into heavy, motionless masses, but the rocky mountain is given life. In Cezanne's interpretation, he attempts to capture the true nature of these inanimate objects, and bring them to light. The mountain towers up and establishes itself prominently in the landscape, dominating over the groups of little houses and trees in the valley.
Cezanne's sense of space is also used to show objects as unalterably linked to one another, but unconnected with human beings. This feeling gives his paintings a perfect stillness, or immobility, and space seems to be filled rather than empty. This concept is well illustrated by the atmosphere above the mountain which seems be solid, to reach down into the ground, rather than to drift away into the heavens.
His contrast with other painters such as Monet and Corot is prominent when we look at the way his landscapes have a limited depth. While other painters' works would stretch out to "who knows how far", Cezanne's painting's distance is set. In Mont Sainte Victoire, the principal subject (the mountain) is large and in the middle of the picture, while at the same time it is distant, at the edge of real space.
Home | Art Prints | Art Movements | Famous Artists | Articles