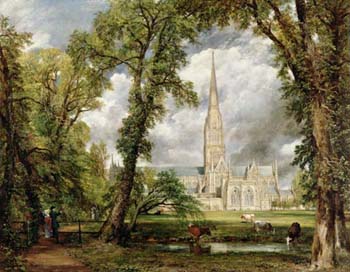 | | |
| --- | --- |
| Artist: | John Constable |
| Created: | 1820 |
| Dimensions (cm): | 92.4 x 74.3 |
| Format: | Oil on canvas |
| Location: | National Gallery of Canada, Ottawa, Canada |
Salisbury Cathedral from the Bishop's Grounds
'Salisbury Cathedral from the Bishop's Grounds' began as one of a series of oil sketches created by John Constable who sought to portray the pure landscape in Western painting. A thirteenth-century Gothic landmark in Wiltshire, south-western England, the Salisbury Cathedral was brought to life by the artist in a series of sketches executed in open air, showcasing the building at various angles.
History
One of Constable's good friends Dr. John Fisher, bishop of Salisbury, commissioned the artist to create the first finished painting from one of the sketches in 1823. The heavy clouds and looming tree branches that framed the 400-foot spire gave movement and contrast to the scene. Upon viewing the finished art work, the bishop voiced his disapproval in regards to the atmosphere of the painting, and requested Constable to make some modifications that included a brighter sky.
Archdeacon John Fisher, the bishop's nephew and also friend of the artist, recorded his uncle's thoughts in a letter sent to John Constable on October 16, 1823 regarding 'Salisbury Cathedral from the Bishop's Grounds'. It said, "If Constable would but leave out his black clouds! Clouds are only black when it is going to rain. In fine weather the sky is blue." It was believed the Bishop thought it a bad omen to present the cathedral under dark clouds.
John Constable freed the spire by clearing away some of the draping tree branches and whitening the clouds. In the foreground, the Bishop can be seen out on a stroll with his wife on a summer morning as he points to the cathedral, waving a white cane in the direction of the spire. His daughter Dorothea is walking towards her parents, while cows nearby are grazing. This painting was one of the major artworks featured at the Royal Academy exhibition in 1823.
This new version became part of the Frick Collection, a collection that features Western art masterpieces from the early Renaissance through the late nineteenth century. Unfortunately, Bishop John Fisher died on the 8th of May, 1825, having never seen the completed painting.
The Metropolitan Museum of Art's 'Salisbury Cathedral from the Bishop's Grounds' (1825) and The Frick Collection's 'Salisbury Cathedral from the Bishop's Garden' (1826) were exhibited together at the Library of The Frick Collection (September 21- December 31, 1999) under the title, 'Constable's Salisbury Cathedral: Two Versions Reunited'.
The original version of 'Salisbury Cathedral from the Bishop's Grounds', featuring the cathedral framed under a tree with cascading branches and depicting a dark cloudy atmosphere, is part of the European and American Art collection which resides at the National Gallery of Canada, in Ottawa.
Home | Art Prints | Art Movements | Famous Artists | Articles