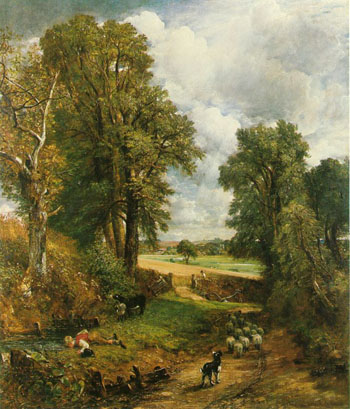 | | |
| --- | --- |
| Artist: | John Constable |
| Created: | 1826 |
| Dimensions (cm): | 122.0 x 143.0 |
| Format: | Oil on canvas |
| Location: | National Gallery, London, England |
The Cornfield
'The Cornfield' was painted in 1826 by landscape artist John Constable. Undoubtedly, it is one of Constable's most treasured works of art, an epic display of tranquil landscape with symbolic traces of human life.
The rural scene depicts what appears to be an ordinary, beautiful day on the farm. It includes palpable, white clouds that billow over and behind an abundance of majestic trees paving the entrance to the farmer's corn field. A diligent, tiny dog herds an obedient flock of sheep, while a young boy, who appears to be taking a break from his laborious chores, drinks water from a glittering stream. Onlookers can assume that the two nearby men are chatting about the crops. The various hues of fading greens and browns that John Constable chose imply that it is summer's end, leaving a lingering sensory effect on the viewer.
The location was once thought to be close to the border between Suffolk and Essex in England, but Constable's son later confirmed that it was painted elsewhere, a narrow lane leading from East Bergholt to the path towards Dedham. The small church in the background, beyond the corn field, never existed. Constable decided that this inclusion would improve the composition's peaceful aura.
Analysis
The Guardian Unlimited (Guardian Newspaper) printed an article in 2003 with regard to 'The Cornfield'. Their comments were directed towards the characteristics of human nature - the irony of a painting that depicts an idyllic world at a time when common people were being violated, farmers lost their crops, and many nonconformists were being hanged for their rebelliousness. Here is an excerpt from that article: "In the midst of a rural hell, Constable invents his heaven. It is a glittering lie, and we should not be surprised to read in the gallery's brochure that this is 'one of the nation's favourite paintings, reproduced countless times and in thousands of home'. For what Constable has done is what human beings have always done, and continue to do today. Confronted by atrocities, we invoke a prelapsarian wonder. We construct our Gardens of Eden, real or imagined, out of other people's hell." – The Guardian Unlimited "Driven Out of Eden" (published 08/05/2003)
'The Cornfield' remained in John Constable's possession until his death, when friends bought it for 300 guineas and presented it to the National Gallery in London, England, where it is still located today.

Home | Art Prints | Art Movements | Famous Artists | Articles