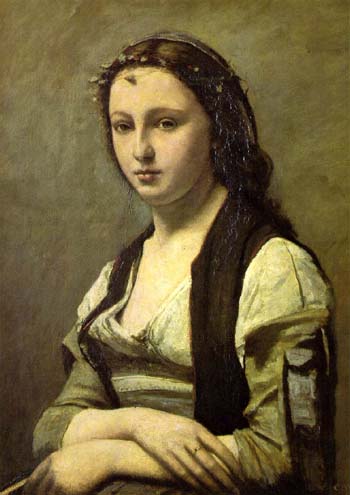 | | |
| --- | --- |
| Artist: | Jean-Baptiste-Camille Corot |
| Created: | 1858-68 |
| Dimensions (cm): | 55.0 x 70.0 |
| Format: | Oil on canvas |
| Location: | Musee du Louvre, Paris, France |
Woman with a Pearl
'Woman with a Pearl', originally known as 'La Femme a la Perle', was one of the most important works of French realist painter Jean-Baptiste Camille Corot, from the Barbizon School.
Who is the model?
Berthe Goldschmidt, daughter of a fabrics dealer, posed for this painting at about 16 years of age, clad in Italian made clothing that the artist had brought back with him from his travels abroad.
Analysis and Reviews
In an art review entitled 'Camille Corot: Rebel without a Pose', author John Goodrich comments on 'The Woman with a Pearl' exhibited at the The Metropolitan Museum of Art in 1997: "No work, for me, shows better the nature of painting, how so powerful an expression of a human moment arises, startlingly, from the abstract romping of colors and lines. One has only to consider the shadow at the center of the lower lip, and its distance, rhythmically and emotionally, from the play of diverging hands, or the cohabitation of the briskly brushed shoulder and the caressing half-shadows under the chin. It is not a mere depiction of ponderous reflection; it is graceful gravity, for here, in the power of its forms, purpose and personality are one."
Many have speculated on the inspirational source for 'The Woman with a Pearl'. Some opine that it may have been inspired by the works of Leonardo Di Vinci's 'Mona Lisa' (1503–1506) and 'La Belle Ferronniere' (1490-95). Others note that the positioning of hands, facial expression, hair style, more particularly the subjects' gaze and attire, are similar to artist. Jan Vermeer's painting 'Girl with a Pearl Earring' (1665).
Some controversy exists with respect to the title which indicates that the woman in the painting is wearing a pearl, when in fact it is a leaf that hangs on her forehead. Alfred Robaut, Jean-Baptiste Camille Corot's friend who catalogued his work, added in a note dated April 21, 1892: "Young woman with a pearl? An odd title, given that it is a leaf."
In regards to the artist's technical freedom and clear color, poet and art critic Charles Baudelaire (1821-1867) described the artist's work as a "miracle of the heart and the mind". Claude Monet (1840-1926) declared: "There is only one master here--Corot. We are nothing compared to him, nothing."
In 1912, Louisine Havemeyer, an American collector of art who was encouraged by Mary Cassatt, was outbidded by the Musée du Louvre in Paris in her attempt to buy 'Woman with a Pearl'.
Home | Art Prints | Art Movements | Famous Artists | Articles