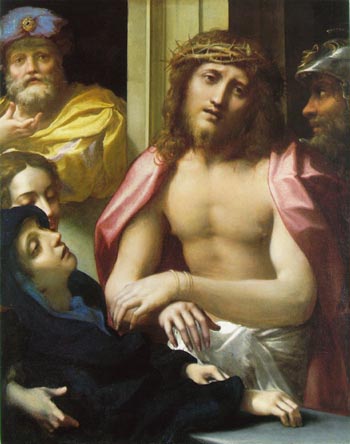 | | |
| --- | --- |
| Artist: | Antonio Allegri Correggio |
| Created: | 1525-30 |
| Dimensions (cm): | 80.0 x 99.7 |
| Format: | Oil on poplar |
| Location: | National Gallery, London, England |
Christ presented to the People (Ecce Homo)
"Then came Jesus forth, wearing the crown of thorns, and the purple robe. And Pilate saith unto them, Behold the man!" - (John 19: 5)
Antonio Allegri Correggio painted 'Christ presented to the People (Ecce Homo)' in approximately 1525-1530 utilizing oil on a piece of poplar wood. The painting represents a passage in the Holy Bible, the particular instance when Pontius Pilate introduced Jesus Christ to the crowd and said, "Ecce Homo", which translates to "Behold the Man". The scene displays Christ in a colourful robe, awaiting crucifixion, his mother the Virgin Mary, attempting to comfort her son, a woman tending to Mary, and a few curious onlookers.
'Christ presented to the People (Ecce Homo)' is a convincing demonstration of Antonio Allegri Correggio's talent as an artist. His creation of soft-looking body contours gives the figures a life-like appearance, and his unique illumination technique renders their skin palpable. The artist's meticulous use of light and shadow, together with skilful brushstrokes, produces a texture to Christ's purple robe, giving it the physical aspect of silk or satin, an effect that invites the viewer to feel the garment. One can observe a meaningful, intense emotion in each of the figure's facial expression, which undoubtedly transcends to the viewer.
The art piece underwent x-rays, the results of which suggested that several changes had been made to the painting during its creation, most notably around the Virgin Mary's face.
Analysis
An insightful excerpt from "Italian Painters of the Renaissance" provides an appreciation of the artist: "Correggio's command of light and shade, the exquisite coolness yet sunny transparency of his shadows, discovered new sources of beauty. He was not only among the very first - a mere question of precedence with which art has no concern - but he remains among the very best who have attempted to paint the surface of the human skin." – Bernard Berenson.
'Christ presented to the People (Ecce Homo)' by Antonio Allegri Correggio is currently located at the National Gallery, London, England.

Home | Art Prints | Art Movements | Famous Artists | Articles