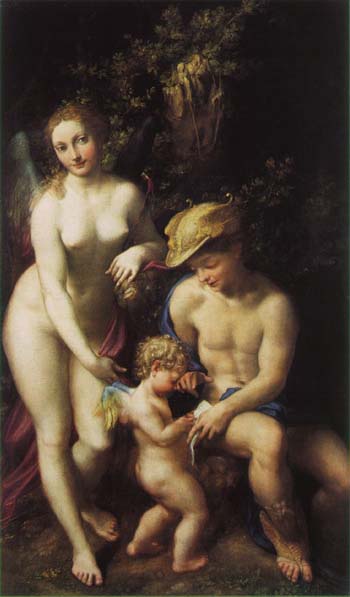 | | |
| --- | --- |
| Artist: | Antonio Allegri Correggio |
| Created: | 1522 |
| Dimensions (cm): | 91.4 x 155.6 |
| Format: | Oil on canvas |
| Location: | National Gallery, London, England |
Venus with Mercury and Cupid
'Venus with Mercury and Cupid' was created by Antonio Allegri Correggio around the year 1525. The oil on canvas is a mythological scene consisting of Mercury as a teacher to young Cupid, and his mother Venus standing close by. All three Gods are nude and placed in a small clearing in a forest. Because Cupid seems intently focused on the lesson that Mercury is presenting to him on a page, and because Venus has the gentle, supportive smile of a mother, a sentiment of family and togetherness is established in the scene, which erases any potential atmosphere of eroticism. The painting's soft contours, and the silky appearance of the hair reflects Da Vinci's impact and influence on Correggio; however, the natural illumination causing the unique three-dimensional effect is typically Correggio's signature, and a genuine display of his renowned artistic talent.
History of the Painting
Antonio Allegri Correggio created 'Venus with Mercury and Cupid' as part of a collection of six mythological art pieces for Federico II Gonzaga, Lord of Mantua. It was first recorded in 1627, along with another of Correggio's paintings 'Antiope', which is now located in the Louvre, Paris, France. Intense scrutiny and X-rays revealed that Corregio had made many changes to the painting before accepting its final look. It is speculated that Mercury and Venus may have exchanged places in one of the painting's numerous drafts.
Analysis and Review
Bernard Berenson (artarchive.com) opined on Antonio Allegri Correggio's artistic ability to paint human flesh with this remark: "In the figure, also, Correggio's command of light and shade, the exquisite coolness yet sunny transparency of his shadows, discovered new sources of beauty. He was not only among the very first - a mere question of precedence with which art has no concern - but he remains among the very best who have attempted to paint the surface of the human skin."
Where is it now?
Since its purchase in 1834, 'Venus with Mercury and Cupid (The School of Love)' has remained in the National Gallery in London, England.
Home | Art Prints | Art Movements | Famous Artists | Articles