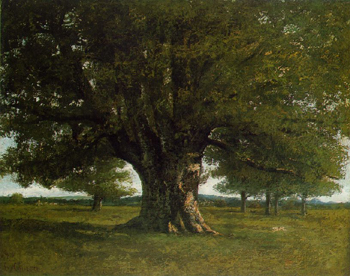 | | |
| --- | --- |
| Artist: | Gustave Courbet |
| Created: | 1864 |
| Dimensions (cm): | 110.0 x 89.0 |
| Format: | Oil on canvas |
| Location: | Murauchi Art Museum, Tokyo |
The Oak at Flagey
In 1864, artist Gustave Courbet created 'The Oak at Flagey', also known as 'The Oak of Vercingetorix', an oil painting on canvas. The focus of this serene landscape consists of a majestic, predominant oak tree centered in a lush, verdant field. Courbet used the conventional centering method in order to minimize any other points of interest in the art work. The vibrant green leaves of the tree, the hazy sky poking through its branches, and the remnants of a setting sun against its trunk leave the viewer feeling the warmth of a French summer at dusk. A small dog is leaping at the bottom right of the tree, adding joyful life to the wholesome scene. The great oak is a landmark that was located close to Courbet's family home, but it is also said that 'The Oak at Flagey' is the site where Caesar defeated the Gallic Chieftain, Vercingetorix.
Analysis and Quotes
While Gustave Courbet is widely known for his compelling and often controversial paintings, one of which being 'The Origin of the World', his landscapes and rural impressions provide insight to the vastness of his creativity and masterful talent. The following quotes are intended to better understand the artist and his work:
"Beauty, like truth, is relative to the time when one lives and to the individual who can grasp it. The expression of beauty is in direct ratio to the power of conception the artist has acquired." – Gustave Courbet
"It was exciting to try to figure out how Courbet achieved some of his effects - how he worked the paint to get those textures of water or snow; how he orchestrated his colors to create those mysteriously beautiful flesh tones or those lowering gray-day-at-the-beach skies." – Jed Perl (Gallery Going)
'The Oak at Flagey' is located in the Murauchi Art Museum in Tokyo, Japan.
Home | Art Prints | Art Movements | Famous Artists | Articles