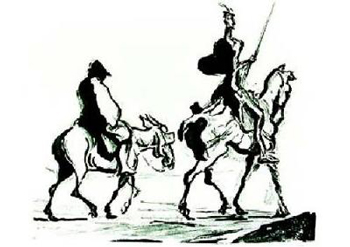 | | |
| --- | --- |
| Artist: | Honore Daumier |
| Created: | 1850 |
| Dimensions (cm): | 29.8 x 20.0 |
| Format: | Black chalk and grey wash on wove paper |
| Location: | The Metropolitan Museum of Art, New York, USA |
Don Quixote and Sancho Panza
During his later years, Honoré Daumier became fascinated with the tale of Don Quixote. In 1850, he sketched 'Don Quixote and Sancho Panza' along with a considerable collection of other drawings and paintings of the same theme. Daumier became particularly attached to the characters of Don Quixote and Sancho Panza; his art work rarely contained any of the other characters from the story.
As a political and social satirist, Honoré Daumier most likely related to the underlying message imparted in the tale of Don Quixote; it emphasized that social status does not necessarily determine the value of a person. Or perhaps he simply understood and connected with the two lovable characters. Don Quixote is a dreamer, a man who sees beauty in everything, while Sancho Panza is a never-ending realist, perhaps even a pessimist. Daumier's cartoons may have been comedic entertainment but his paintings presumably revealed a deep philosophical side of him.
The contradiction between the two personalities can be sensed in the drawing of 'Don Quixote and Sancho Panza' as it shows them riding off, most likely toward the sun because a dark shadow is placed on their back, giving us the impression they are leaving an unpleasant situation or undesirable place. Despite the circumstances, Don Quixote sits tall upon his prancing horse, proud with head held high, positively ready for the next adventure. On the other hand, Sancho Panza rides alongside his companion, hunched on his tired donkey, shoulders and head drooping, seemingly not as eager as Quixote to face yet another random adventure together; nonetheless, his boundless loyalty to Quixote prevails.
A Man of Many Talents
Honoré Daumier was a remarkable artist, skillful in many different mediums. A printmaker, caricaturist, painter, and sculptor, he produced over 500 paintings, 4000 lithographs, 1000 wood engravings, 100 sculptures, and 1000 drawings, many of which included various sketches of 'Don Quixote and Sancho Panza', a theme that captivated him for much of his later years.
'Don Quixote and Sancho Panza' by Honoré Daumier is housed at The Metropolitan Museum of Art in New York, but is currently not on display.
Provenance
• Paul Bureau ; Vendor: Galerie Georges Petit,
• Paris Included in sale cat. May 20, 127, no. 48

Home | Art Prints | Art Movements | Famous Artists | Articles