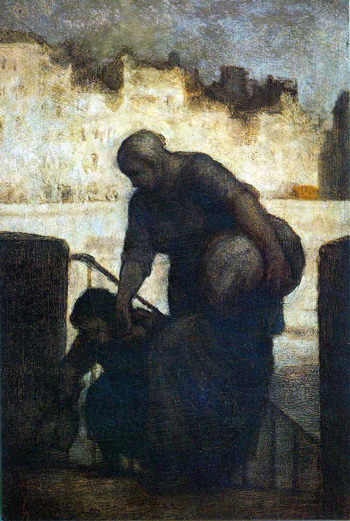 | | |
| --- | --- |
| Artist: | Honore Daumier |
| Created: | ca.1860 |
| Dimensions (cm): | 19.7 x 28.5 |
| Format: | Oil on wood panel |
| Location: | Albright-Knox Art Gallery, Buffalo, USA |
'Laundress on the Quai d'Anjou, or its original French title, 'Laveuse au Quai d'Anjou', is an oil on wood panel painting created by Honoré Daumier in 1860. The painting reflects a scene that the artist witnessed every day just outside of his apartment on the Ile St. Louis, children with their mothers carrying heavy bags of laundry while trekking up and down the stairs that led them to the laundry boats on the Seine River.
Analysis and Reviews
'Laundress on the Quai d'Anjou' was unquestionably created to represent the strength that Honoré Daumier recognized in the working women of the mid-nineteenth century. The following analysis of the painting is clearly of the opinion that the general views of the population towards the lower class residents in Paris, at the time, rarely addressed their endurance of hardship; however, the artist acknowledged their daily struggles by suggesting the idea in his artwork.
"Many stereotypes of the poor in France in the 19th century were the assumption that they were useless and could not fend for themselves. However, this picture ('Laundress on the Quai d'Anjou') creates two ironic ideas, one being that the woman and her child are indeed struggling but they are surviving. The second idea is illustrated in the way Daumier created this re-life painting. He seems to have noticed the stereotype of the poor and working class yet, he still created them in dark colors where their faces blend in with a blank expression. Daumier almost makes the statement in this picture that the poor are often thought of as nameless people who walk the streets of Paris. This painting is like many of Daumier's other paintings of the lower class. The faces are almost blank with no identity, forcing the viewer to look at the environment around the "main focus". Daumier does an excellent job of this in 'Laveuse au Quai d'Anjou'." (Robert M. Schwartz – Professor of History, Mount Holyoke College)
Where is it now?
In 1895, Honoré Daumier's wife sold all of his remaining paintings for 1200 francs. She died shortly thereafter. Today, the 'Laundress on the Quai d'Anjou' is displayed at the Albright-Knox Art Gallery in Buffalo, New York.
Home | Art Prints | Art Movements | Famous Artists | Articles