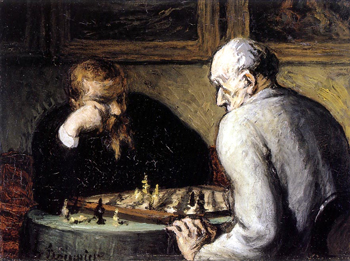 | | |
| --- | --- |
| Artist: | Honore Daumier |
| Created: | 1863-67 |
| Dimensions (cm): | 32.0 x 24.8 |
| Format: | Oil on panel |
| Location: | Musee du Petit Palais, Paris |
The Chess Players (Les joueurs d'échecs)
While Honoré Daumier created thousands of artworks over his career, 'The Chess Players', or as it is known in its original language, 'Les joueurs d'échecs', is a perfect example of his talented hand in painting. It is particularly realistic in capturing the typical ambiance and fervor associated with the game of chess.
In a dim-lit room, the two chess players, perhaps father and son, face each other in a serious competition of chess; both are completely emerged in the strategy of the game. The young man sits with his head resting on his hand, contemplating the layout of the chess pieces. His relaxed facial expression and body position lead us to believe that he may have outsmarted his rival. Comfortable in his present game situation, he waits for his opponent to make his move. On the other hand, the older gentleman seems anxious, his somewhat tense body slightly lifted from his chair and his hand clenching the edge of the table. He appears to be looking at the game with a worried expression – perhaps surmising that his loss is inevitable.
We can appreciate Daumier's choice of colors for the chess players' clothing as he opted to represent the color of chess pieces. One man's white gown makes a fitting contrast against the other man's black sweater.
One can say that Honoré Daumier was able to not only portray the bond of sportsmanship between two competitors, but also managed to create the appropriate atmosphere of tension in this incredible scene.
About the Artist
Born into the world of artistic expression, Honoré Daumier became exceedingly talented in a vast array of mediums. He was a printmaker, caricaturist, sculptor, and painter. While he was best known for his satire caricatures (earning the nickname "The Michelangelo of Caricature) many of his remarkable artworks including 'The Chess Players' have drawn much positive attention over the years.
'The Chess Players' by Honoré Daumier is currently housed at the Musée du Petit Palais, in Paris, France.

Home | Art Prints | Art Movements | Famous Artists | Articles