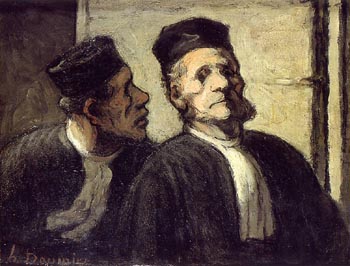 | | |
| --- | --- |
| Artist: | Honore Daumier |
| Created: | 1855-57 |
| Dimensions (cm): | 26.5 x 20.5 |
| Format: | Oil on wood |
| Location: | Stiftung Sammlung E. G. Bührle, Zurich |
The Two Lawyers
A far cry from his famed skills as a caricaturist, Honore Daumier's painting 'The Two Lawyers' demonstrates the artist's versatile artistic talent. Created in approximately 1855-1857, this oil on a wood panel not only reveals Daumier's skilful technique, but also the strong emotions he felt towards the subjects in his composition. The harshness of his brushstrokes confirms the unkind opinion that Daumier harboured against the lawyers of his time.
In this painting, Honore Daumier implements 'good' versus 'bad' through symbolism. The seemingly morally upright lawyer leans his head back in order to listen to the "idea" that his colleague appears to be conveying to him. The bright light that illuminates the listening lawyer's face not only suggests the ethical attributes of his character, but also emphasizes the assumed presence of justice within the walls of the courthouse. Moreover, it presents the listening lawyer's self-righteous, incorruptible side, while the dark shadow on the left side of his face implies a certain interest in being won over, especially if the proposition leads to the possibility of achieving power. In striking contrast, the whispering lawyer's face is completely shadowed, as though he has already been corrupted and hopes to convince his friend to follow in his footsteps.
History
In an article published in the New York Observer, reviewing the exhibition entitled "The Daumier Retrospective", Hilton Kramer writes, "As a painter he [Daumier] is usually classified as a Realist, but with a contemporary Realist like Courbet he had little in common. Daumier's is a much darker sensibility than Courbet's, a sensibility that is closer to that of the "black" paintings of Goya than to the sunlit world evoked in Courbet's landscapes." Kramer added, "The virtuosic attention to detail that is one of the glories of the artist's [Daumier] lithographs is often abandoned in the paintings in favor of a pictorial drama of light and shadow, with shadow the dominant element."
'The Two Lawyers' by Honore Daumier is currently located at the Stiftung Sammlung E. G. Bührle Museum in Zurich.

Home | Art Prints | Art Movements | Famous Artists | Articles