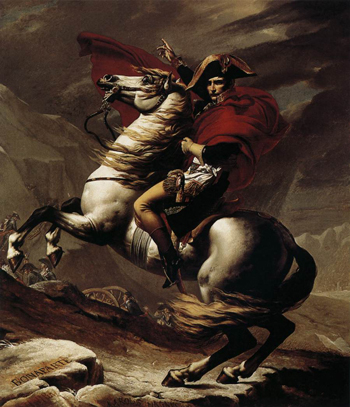 | | |
| --- | --- |
| Artist: | Jacques-Louis David |
| Created: | 1801 |
| Dimensions (cm): | 221.0 x 260.0 |
| Format: | Oil on canvas |
| Location: | Musée National du Château de Malmaison, Rueil, France |
Bonaparte, Calm on a Fiery Steed, Crossing the Alps
Jacques Louis David excelled in historical paintings and in portraits. His paintings are characterized by fine composition and draftsmanship, with figures and forms of sculptural dignity as is the case with the 1800 painting Bonaparte Crossing the Alps.

David dedicated his artistry to the service of glorifying France's great hero, Napoleon. Perhaps the most powerful of all David's images of Napoleon is the first of many commissions, recording the 1800 crossing of the St. Bernard Pass. Napoleon requested a traditional image of equestrian dominance, showing him calm on a fiery steed, and David complied with a heroic and spirited stallion. In reality, Napoleon crossed the alps on a sure-footed mule. According to David, it was not appropriate for a man of destiny to be depicted on such an animal so he painted him on a dashing charger.

In his painting Bonaparte Crossing the Alps, Napoleon shows the calm assurance and ease of his authorative control as he glances outward toward us, the viewer, yet his extended arm provides the martial command. This assurance is even more impressive against the backdrop of jagged mountains, already eliciting fear and awe generated by this majestic sight and showing animal terror in the face of the rearing horse.

The authenticity of this event has been inscribed literally by David where the name Bonaparte has been added on a foreground rock to two famous predecessors in crossing the alps with their armies: Hannibal and Charlemagne (not easily legible in the painting).

David worked hard to create the myth of Napoleon. It took him four months with his assistants to complete Bonaparte Crossing the Alps.
Home | Art Prints | Art Movements | Famous Artists | Articles