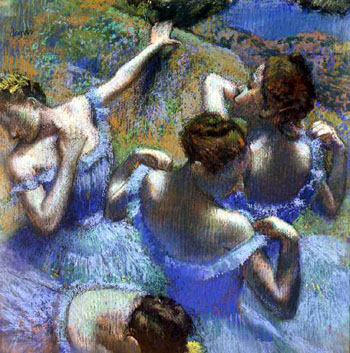 | | |
| --- | --- |
| Artist: | Edgar Degas |
| Created: | 1898-99 |
| Dimensions (cm): | 65.0 x 65.0 |
| Format: | Pastel on paper |
| Location: | Pushkin Museum of Fine Art, Moscow |
Blue Dancers
Ballerinas were perhaps Degas's favorite subject. He was fascinated by their art and the unique expression they achieved with the human form. He painted them through a long stretch of his career; Dancers in Blue was painted towards the end.

Degas typically painted dancers backstage. His goal was to capture their unique poses in a candid fashion, along with their surroundings and all the elements of the backstage scene. He essentially was painting candid snapshots of dancers practicing or preparing to perform. Here, he abandons fine detail and anecdotal surroundings in favor of intense color and massively state figures. The group lacks the dramatic poses of his other works, but they convey an informal nonchalance that is in fact not dissimilar to an image of a dancer warming up. Degas is capturing them in costume, as dancers, but outside the realm of performance. In fact, the arrangement of the group is itself suggestive of performance. As the eye travels over the canvas, looking at the different dancers, it inevitably travels in a circle—down the arm of the leftmost dancer, across the shoulders of the lowest, and up the bare backs of the remaining two. The result is a suggestion of motion, the very cyclic, swirling motions of the ballet.

Color is the most notable aspect of the piece. Degas uses it as an expressive possibility in and of itself. The group is held tightly together by colors: the dominant blue hues form the foundation, while other colors, such as the browns of their hair, further solidify the connection. The cold blues, turquoises, and aquamarines suggest a world of shadow and stability, one very far removed from the bright lights and lively colors of the stage. This underscores the fact that we are witnessing the dancers in an environment we are not accustomed to seeing them in; because of this, the scene is imbued with a degree of auspiciousness despite its ultimately mundane nature.
Home | Art Prints | Art Movements | Famous Artists | Articles