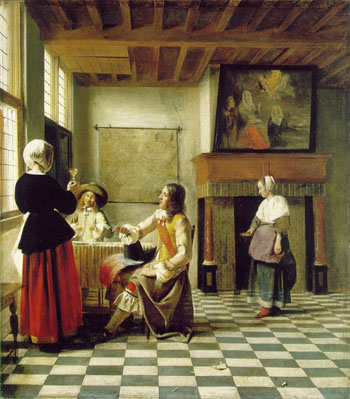 | | |
| --- | --- |
| Artist: | Pieter De Hooch |
| Created: | 1658 |
| Dimensions (cm): | 63.4 x 73.7 |
| Format: | Oil on canvas |
| Location: | The National Gallery, London, England |
A Woman Drinking with Two Men, and a Serving Woman
In 1658, towards the end of his stay in Delft, South Holland, artist Pieter De Hooch created the oil painting titled 'A Woman Drinking with Two Men, and a Serving Woman'. It entails two men, who are probably soldiers, sitting at the table and engaged in a conversation with the woman standing before them. She is holding up her wine glass, which is aglow from the light streaming in from the window, rendering it one of the main focuses of the art work. A woman servant stands to the right, at a distance from the table, ready to assist. Behind the men, on the rear wall, hangs a map of Holland, and over the fireplace is a picture similar to a painting from the 17th century, 'The Education of the Virgin'.
Interesting Discoveries
It would appear that Pieter De Hooch made several versions of 'A Woman Drinking with Two Men, and a Serving Woman'. At the onset, De Hooch created the architectural elements of the scene before adding in the figures; this is apparent from the chequered floor tiles that can be seen through the servant's skirt. Another figure also stood to the left of the servant at one time, which the artist painted over; however, due to the wear and tear of the upper paint layers, and the age of the painting, the outline of that figure is now obvious.
A Review
According to Kirsten Bradbury (Essential History of Art), "De Hooch's paintings have complex structures, which create the illusion of real perspective. Rectangular architectural frames and blocks give the impression of distance, and lead the viewer's eye to the main focus of the painting...receding floor tiles also help to create this impression of perspective."
Where is it now?
In 1871, The National Gallery in London, England, purchased Peter De Hooch's painting "A Woman Drinking with Two Men, and a Serving Woman" as part of the Peel Collection. Sir Robert Peel's personal collection of 77 paintings, which were regarded with the highest order of merit, and valued at £250,000, was generously sold for the mere price of £75,000.
Home | Art Prints | Art Movements | Famous Artists | Articles