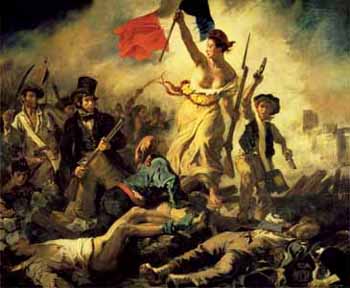 | | |
| --- | --- |
| Artist: | Eugene Delacroix |
| Created: | 1830 |
| Dimensions (cm): | 325.0 x 260.0 |
| Format: | Oil on canvas |
| Location: | Musee du Louvre, Paris, France |
The painting 'Liberty Leading the People', or its original French title 'La Liberte Guidant le Peuple', was created by artist Eugene Delacroix to commemorate the July Revolution in 1830 against Charles X. The famous scene depicts a woman who is portrayed as the embodiment of liberty, guiding a troop of people in a battle for their freedom. Delacroix's heroine "Liberty" presents both a soft feminine trait, as well as a strong masculine side. The bodice of her dress is torn to reveal her breasts, and she is standing barefoot. She holds a bayoneted musket in one hand, and carries the French flag of the revolution in the other. Her figure stands high on a mountain of bodies with her arm raised in spirited determination. To the left of "Liberty" stands a man in a top hat who is assumed to be Eugene Delacroix himself.
Some believe that Frederic Bartholdi may have been inspired by 'Liberty Leading the People' when he designed The Statue of Liberty in the 1880's.
A Political Statement
When Eugene Delacroix completed 'Liberty Leading the People', the French government purchased it for 3,000 francs, with the intention of hanging it in the throne room of the Palais de Luxembourg. It was meant to be a reminder to the new "Citizen King" Louis-Phillipe, who had come into power as a result of the revolution. The painting was denied its intended placement, and was displayed in the Palace museum instead. A short time later, it was removed due to its highly sensitive political message.
Delacroix was permitted to send the art work to his trusted Aunt for safe-keeping. Thereafter, it went to the Salon in 1855, until The Louvre took possession of it in 1874.
Analysis and Review
"No other painter of the time explored the domain of the Romantic subject and mood as thoroughly and definitively as Delacroix, and none matched his style and technique. Delacroix technique… impetuous, improvisational, and instinctive, rather than deliberate, studious and cold… epitomizes Romantic painting." – Lometa (Artists and Art in the Classroom, Lecture)
'Liberty Leading the People' has remained in the Louvre, Paris, France since its acquisition in 1874.
Home | Art Prints | Art Movements | Famous Artists | Articles