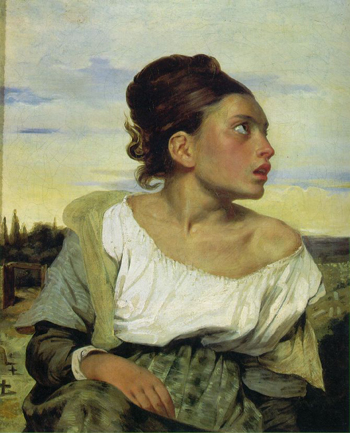 | | |
| --- | --- |
| Artist: | Eugene Delacroix |
| Created: | 1824 |
| Dimensions (cm): | 54.0 x 66.0 |
| Format: | Oil on canvas |
| Location: | Musee du Louvre, Paris, France |
Orphan Girl at the Cemetery
"The work of a painter who is not a colourist is illumination rather than painting. If one intends something other than cameos, colour is, strictly speaking, one of the founding principles of painting, no less so than chiaroscuro, proportion and perspective... Colour gives the appearance of life." – Eugene Delacroix
'Orphan Girl at the Cemetery', or as it is known in its original French language, 'Jeune orpheline au cimetière', was painted in 1824 by well-known artist Eugene Delacroix. The painting depicts a young girl visiting a cemetery, most likely located in the French countryside. Her tearful eyes are directed upward, toward heaven. Is she questioning God's will? Does she look to understand why her loved one was taken from her? Her expression conveys not only sadness, but also emotional pain.
The melancholic atmosphere of 'Orphan Girl at the Cemetery' is emphasized by the dimly lit background, the paleness of the sky and the dark, neglected graveyard, all of which suggest abandonment. The young girl's posture implies resignation; her gaping mouth, the hand that lies lifeless on her knee, and the right arm that supports her body on the ground give the viewer a sense of hopelessness. Eugene Delacroix's shadowing technique is masterful, from the nape of her neck to the wrinkles of her clothing. The background is slightly blurred, placing all the attention on the grief-stricken figure at the forefront of the canvas. The exceptional color scheme chosen by Delacroix for this composition creates the aura of solitude and loneliness.
Reviews
"[Delacroix] was the most important of the French Romantic painters. Delacroix's use of expressive brushstrokes and his study of the optical effects of colour profoundly shaped the work of the Impressionists, while his passion for the exotic inspired the artists of the Symbolist movement." – www.eugenedelacroix.org
'Orphan Girl at the Cemetery' by Eugene Delacroix is currently located at the Musee du Louvre in Paris, France.

Home | Art Prints | Art Movements | Famous Artists | Articles