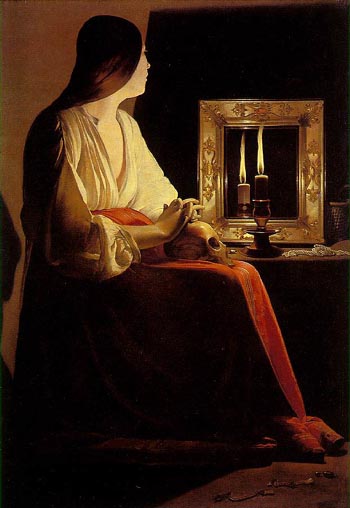 | | |
| --- | --- |
| Artist: | Georges De La Tour |
| Created: | 1638-43 |
| Dimensions (cm): | 102.2 x 133.4 |
| Format: | Oil on canvas |
| Location: | The Metropolitan Museum of Art, New York, USA |
The Penitent Magdalen
Between 1638 and 1643, master painter Georges De La Tour created 'The Penitent Magdalen' with oil on canvas, a painting that is regarded by many as one of the most treasured and unforgettable art works, and is especially appreciated by those of the Catholic faith.
The painting depicts biblical figure Mary Magdalen sitting at a small desk, in deep thought as she contemplates her life and the idea of following a path of righteousness and purity. A candle burns brightly in the background, signifying spiritual enlightenment and the tranquility that befalls her. The skull on her lap represents her mortality, as well as the life sacrifice that Jesus Christ made for mankind. She stares hopefully at the mirror, feeling remorse for her sins and praying for forgiveness. The mirror, a symbol of vanity and self-examination, reveals a perfect likeness of the candle flame that burns in front of it, emphasizing the painting's peaceful aura.
'The Penitent Magdalen' demonstrates Georges De La Tour's skill in capturing distinct lighting that will bring meaning to the scene. He has made the candle the only source of light in the small room, causing an intense contrast of light and shadow – good and bad. Moreover, by illuminating Mary Magdalen's upper body and face, the artist creates a heartfelt effect, a sense of not only redemption, but also possible holiness.
Review
"Wherever he [De La Tour] journeyed, though he would have seen many penitent Magdalens, none would have been as beautiful as those he was to paint in Lunéville. For him this subject, which he treated at least four times, may have had some special significance. But it was in any case a popular scene, one greatly encouraged by the Church, which during the Counter Reformation emphasized penance and absolution in contrast to the Calvinistic doctrine of predestination." – John Walker "National Gallery of Art" book.
Provenance
• Private Collection
• Moved in approximately 1920 to the Cote d'Or where it remained until 1963
• Sold in 1963 to Galerie Heim in Paris
• Sold to Mr. and Mrs. Charles Wrightsman in 1963
• Given as a gift to the Metropolitan Museum of Art in 1978
'The Penitent Magdalen' by Georges De La Tour is currently located at The Metropolitan Museum of Art in New York, USA.

Home | Art Prints | Art Movements | Famous Artists | Articles