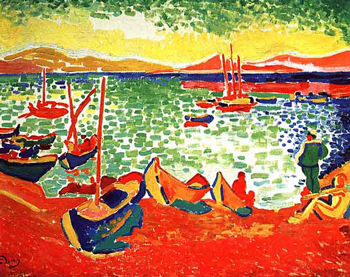 | | |
| --- | --- |
| Artist: | Andre Derain |
| Created: | 1905 |
| Format: | Oil on canvas |
| Location: | Private Collection |
Boats in the Harbour (Bateaux dans le port, Collioure)
"Art must not be intelligent; art is a jouissance, an enjoyment." – Andre Derain
Analysis
In 'Boats in the Harbour', also known as 'Bateaux dans le port, Collioure', Andre Derain amplifies the charm and vibrancy of the small fishing village, Collioure. His use of a bright color palette and bold brushstrokes are the perfect example of the fauvist artist's personal expression on the then new genre. Technically, the painting is wild, with "neat" colors, as though used straight from the paint tube. The inconsistent brushstrokes not only intensify the composition, but also cause distraction and minimize traditionalism.
On an emotional level, 'Boats in the Harbour' evokes the soaring degree of elation Andre Derain must have felt while creating it. The painting's atmosphere is joyful, yet serene, not an easy feat for any artist. The broken brushstrokes on the water and in the sky bring these elements to life, and create a depth that extends way beyond the shoreline, where a man is seen pensively overlooking the marina. 'Boats in the Harbour' takes the viewer on a journey to Collioure, where both Derain and Matisse spent time admiring the beautiful view.
History
Andre Derain spent the summer of 1905 with fellow painter, Henri Matisse, in Collioure, a remote fishing village in the south of France. That summer would prove to be monumental for the painters, producing a new genre of fauvism that would inspire artists for years to come. With the shocking boldness of color, and intense use of light, Derain paved a novel path in fauvism, one that never fails to intrigue, even today.
After showing their artwork at the Salon d'automne from that summer in 1905, Derain and Matisse would be considered the leaders in the fauvist movement, earning the term, "Les Fauves" (The Wild Beasts).
'Boats in the Harbour' is located within a private collection.

Home | Art Prints | Art Movements | Famous Artists | Articles