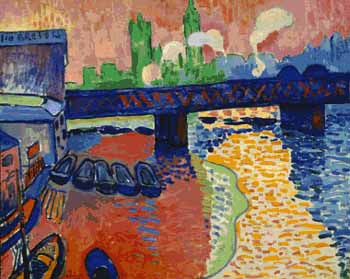 | | |
| --- | --- |
| Artist: | Andre Derain |
| Created: | c. 1906 |
| Dimensions (cm): | 100.3 x 80.3 |
| Format: | Oil on canvas |
| Location: | National Gallery of Art, Washington, USA |
Charing Cross Bridge
Andre Derain painted 'Charing Cross Bridge' during his brief stay of two months in London, England, in the winter of 1906. The painting depicts a scene from the south shores of the river Thames, as the artist observed it while standing on a wharf near the Lion's Brewery, which is the blue building on the far left. The rippling water effect was achieved by using short, choppy brush strokes. The distant buildings and landscape were painted employing smooth, soft lines in order to create a contrast with the close, sharp contours in the foreground. The bridge shows the train driving through it. 'Charing Cross Bridge' remains one of Derain's most popular paintings.
The Onset of Fauvism
In 1905, Andre Derain and Henri Matisse, who became very close friends through college, placed their artwork in an exhibition at the Salon d'Automne. Their paintings prompted art critic Louis Vauxcelles, to call both artists "les fauves", which translates to "the wild beasts". This initiated a short movement in art history called Fauvism, lasting from 1905 to 1907, with a mere total of three exhibitions. The paintings were imaginative and boldly colored, with generally no standard use of the typical artistic methods implemented by most painters of the time. When Vauxcelles coined the term "les fauves", he did not intend it to be a compliment to the artists, but rather a humorous reaction to their unorthodox style and methods. Today, Andre Derain's paintings sell for approximately US $6 million.
The Artist's Comment
Andre Derain's remark: "Painting is too beautiful to be reduced to images which may be compared with those of a dog or horse. It is imperative that we escape the circle in which the realists have trapped us."
'Charing Cross Bridge' is located in the National Gallery of Art in Washington, D.C.
Home | Art Prints | Art Movements | Famous Artists | Articles