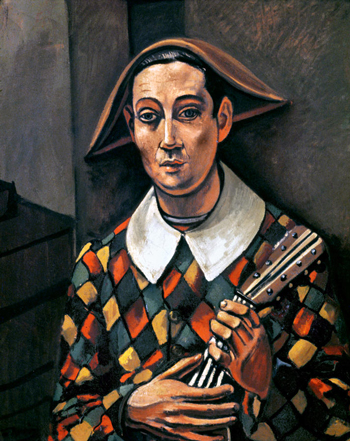 | | |
| --- | --- |
| Artist: | Andre Derain |
| Created: | 1919 |
| Dimensions (cm): | 74.0 x 61.0 |
| Format: | Oil on canvas |
| Location: | Chester Dale Collection (not currently on view) at the National Gallery of Art in Washington. |
Harlequin
"I do not innovate. I transmit."- Andre Derain
Analysis
In 1919, Andre Derain created 'Harlequin', after his release from the war. Amidst a dull, low lit background, figures a man holding onto his musical instrument. He appears to be located in a hallway or entrance way with a flight of stairs to the left and behind him. The dark and undecorated appearance of the room conjures up feelings of loneliness and obscurity. The musician's clothing, while colorful and joyful with a "jester" like pattern, seem to contradict his rather solemn facial expression. Melancholy and disappointment emit from the subject's face, as though he plays music not because of joy, but because of sorrow. This painting may very well reflect Andre Derain's feelings about his personal life and art upon returning from the war.

History
While most celebrated for his unforgettable mark left on the fauvism genre, Andre Derain explored many different paths over his artistic career. He, like so many artists of his time, explored Classicism after the war, of which a significant influence can be seen within this painting, formal and artistically restrained. During the same year that he painted 'Harlequin', Derain designed the ballet "La boutique fantastique" for Diaghalev, who was the leader of the Ballet Russes. Many critics agree that the 1920's were the height of Derain's career, from travelling abroad for numerous exhibitions and gaining much attention along the way to winning the Carnegie Prize in 1928.

Provenance
• From Andre Derain to Paul Guillaume
• Sold in 1925 to Galerie Etienne Bignou (Paris and New York)
• Sold in 1931 to Chester Dale
• Bequest in 1963 to National Gallery of Art
'Harlequin' is located in the Chester Dale Collection (not currently on view) at the National Gallery of Art in Washington.

Home | Art Prints | Art Movements | Famous Artists | Articles