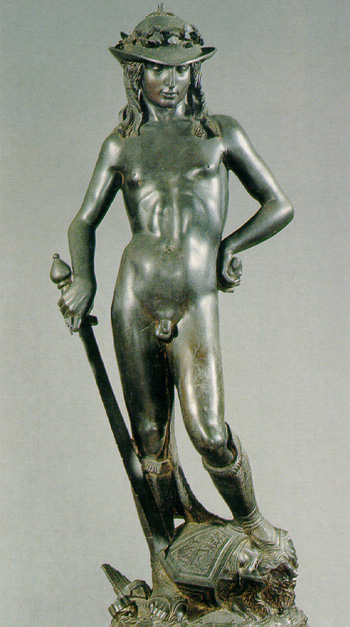 | | |
| --- | --- |
| Artist: | Donatello |
| Created: | 1444-46 |
| Dimensions (cm): | 51.0 x 158.0 |
| Format: | Bronze sculpture |
| Location: | Museo Nazionale del Bargello, Florence, Italy |
David (bronze)
Though little is known with regards to the exact date or even year that the great Donatello sculpted 'David', it is clear that it was in the first half of the 1440's. Donatello made history when he created this masterpiece, which became the first free-standing bronze sculpture that was completely unsupported and in nude form in the Renaissance period. The sculpture, which stands 5.5 feet in height and 1.8 feet in diameter at the base, depicts 'David' of the legend "David and Goliath" standing with his left foot atop the head of the fallen Goliath. The figure holds the sword that he claimed from Goliath in his right hand, and his left hand is naturally placed on his hip holding a rock. He wears a leaf ringed hat upon his head and dons a pair of boots, but nothing more. The art work caused much controversy due to the depiction of the nude male body. The body of the statue is male, yet is constructed with a major overtone of femininity and subtle frailty. Some believe that Donatello purposefully did this in order to symbolize the intervention of God in the battle between "David and Goliath"; this is even more eminent in the carefree stance over the giant, Goliath, which the figure holds.
Possible Mistaken Identity?
Recently, the identity of the sculpture has been questioned. Some speculate that the figure was originally intended to be a female but Donatello changed it to a male. Others believe that there is a possibility that the figure actually depicts the Roman God, Mercury, who wears a similar helmet, just after slaying the giant, Argus.
Analysis and Reviews
"Donatello's David, as the first nude of the Renaissance and as a seductive, elusive subject, demands contemplation and respect. Donatello insists one experience his sculpture intimately." – www.mercierart.com
Interesting Facts
It is believed that the commissioner for the sculpture was Cosimo d Medici, and was placed in the courtyard of the Medici Palace in Florence, Italy.
For the first time ever, beginning in 2007 and going on through to 2008, the sculpture is being fully restored using new techniques to removes centuries of encrusted dirt. Visitors to the museum can witness this ongoing project in action.
The Restoration will cost approximately $269,220.
'David' is currently located in the Bargello Museum, Florence, Italy.

Home | Art Prints | Art Movements | Famous Artists | Articles