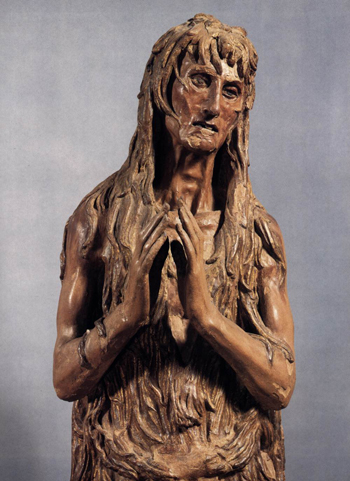 | | |
| --- | --- |
| Artist: | Donatello |
| Created: | 1455 |
| Format: | Polychrome wood |
| Location: | Museo dell'Opera del Duomo in Florence, Italy |
Mary Magdalene (The Penitent Magdalene)
This sculpture, made entirely out of polychrome wood, presents an exceptionally intense look at humanity, and is a perfect example of Donatello's talented hand. It is titled 'Mary Magdalene', a biblical figure, whose life was depicted as less than virtuous. She stands with her hands almost folded, perhaps penitent before Jesus Christ.
Upon first glance at this statue of Mary Magdalene, one is stunned by her absolutely haggard appearance. A profound psychological effect takes place. Viewers are led to assume that her sinful life of supposed prostitution and adultery has ravaged her original beauty and stolen her youth. Her cheeks are sunken in, her lips slightly parted, revealing missing teeth. She seems to desperately long to convey a message. Her eyes, though tired, are piercing, producing a most powerful and emotional impact as they offer a glimpse into her weary soul. A question arises. Is she exhausted from the battle of reforming her life in order to reach salvation? As her hair spills down her long body, unkempt, tangled and lifeless, one cannot help but remember that, after washing Christ's feet with her tears, and anointing them with oil, Mary Magdalene then used her hair to dry them.
Donatello beautifully portrayed Mary Magdalene in her ascetic journey to redemption, an inspiring variation from the more common version which focused on her deemed corrupt and immoral lifestyle.
About Donatello
Donatello, or Donato di Niccolò di Betto Bardi, was a celebrated sculptor of the early renaissance period. He created a vast majority of his artworks in Florence, Italy, where he was born and later returned. Donatello is considered by many to be the original master of sculpting, excelling in various mediums such as bronze, marble, terracotta, and wood. He influenced many artists of his time, including Michelangelo, and continues to inspire artists across the globe today. 'Mary Magdalene' was one of Donatello's final and perhaps most spiritual creations.
'Mary Magdalene' is currently located at the Museo dell'Opera del Duomo in Florence, Italy.

Home | Art Prints | Art Movements | Famous Artists | Articles