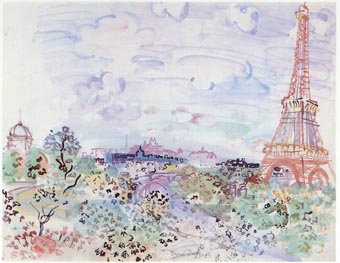 | | |
| --- | --- |
| Artist: | Raoul Dufy |
| Created: | 1935 |
| Dimensions (cm): | 65.5 x 51.0 |
| Format: | Watercolor on paper |
| Location: | Private collection |
La Tour Eiffel
"What I wish to show when I paint is the way I see things with my eyes and in my heart." – Raoul Dufy
In 1935, using water color on paper, Raoul Dufy painted 'La Tour Eiffel', a fauvist's perception of the Eiffel Tower surrounded by the lush and vibrant landscape of the famous city - Paris. The brushstrokes of the foliage are very typical of the fauvist hand, while the swirling blue and white hues of the clouds add a touch of animation to the art work. Dufy's skilful play of colors in 'La Tour Eiffel' imparts the remarkable 'joie de vivre' of the Parisians as well as the excitement of the French city; the softer tones of the river and grasses add an aura of romance.
A quote by the artist
"Blue is the only color which maintains its own character in all its tones... it will always stay blue; whereas yellow is blackened in its shades, and fades away when lightened; red when darkened becomes brown, and diluted with white is no longer red, but another color – pink." – Raoul Dufy
Analysis
Dufy added a love of poetry, music, drawing, painting, and of simply being alive. His personal symbolism, sensitive touch, and feeling for color create a world of fashionable pleasure from which he made a natural transition to textile design, ceramic decoration, and decorative painting. – Mystudios.com
'La Tour Eiffel' by Raoul Dufy was presented at Christies Auction House as part of the "Impressionist and Modern Works on Paper" lot. On June 23, 2005, it sold for the amount of $196,560 US dollars (pre-lot text stated that the artwork belonged to a private Swiss collection).
Home | Art Prints | Art Movements | Famous Artists | Articles