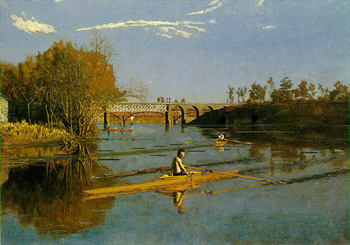 | | |
| --- | --- |
| Artist: | Thomas Eakins |
| Created: | 1871 |
| Dimensions (cm): | 117.5 x 82.6 |
| Format: | Oil on canvas |
| Location: | The Metropolitan Museum of Art, New York, USA |
As part of a large series of rowing paintings and drawings on the Schuylkill River in Philadelphia, 'Max Schmitt in a Single Scull' (also known as 'The Champion Single Sculls') is the first and most famous of these 24 works of art. Incredibly, the entire series painted by artist Thomas Eakins took merely four years to complete. The painting represents an inspiring late afternoon Fall scene with two oarsmen on the beautiful Schuylkill river, the foremost young man being champion rower Max Schmitt, Eakins' close friend from high school. Eakins painted himself in the picture; he is in another scull that bears his name and date on it. 'Max Schmitt in a Single Scull' was a significant accomplishment for the artist, as he had experienced some difficulty painting landscapes the previous year. The shoreline and trees are skilfully depicted, as well as the reflections upon the water's surface. The lingering clouds in the sky, and the browning, wilted leaves and foliage portray a realistic Philadelphia Fall. Eakins complimented the whole with a perfect blend of shadows and hues that provide the viewer with a keen sense of the crisp, cool autumn air. He studied the aspects of rowing, and created preliminary sketches in order to bring about a realistic manifest of the sculls on the water.
Analysis and Reviews
"At first glance, 'The Champion Single Sculls' seems as deceptive in its directness and simplicity as the apparent ease with which Schmitt balances his craft. But just as sculling, a sport of rhythmic and fluid beauty is built on dedication, practice, and rigorous mental and physical discipline, so the painting, a studio production, was created from scrupulous observation of details and intensive preparation." – Helen Cooper, Magazine Antiques
Thomas Eakins was highly respected as one of America's most talented and treasured artists; he was also an accomplished photographer and teacher. 'Max Schmitt in a Single Scull' is currently located at The Metropolitan Museum of Art in New York, USA
Home | Art Prints | Art Movements | Famous Artists | Articles