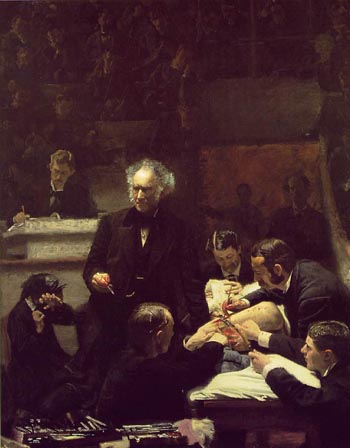 | | |
| --- | --- |
| Artist: | Thomas Eakins |
| Created: | 1875 |
| Dimensions (cm): | 243.8 x 198.1 |
| Format: | Oil on canvas |
| Location: | Philadelphia Museum of Art, Philadelphia, PA, USA |
The Gross Clinic
After taking an anatomy class in 1874, Thomas Eakins painted 'The Gross Clinic' in the year 1875 with oil on canvas. His class lectures had been lead by professor and doctor, Samuel Gross, who became an inspiration to his many students.
The painting is a believable representation of the clinic that Dr. Gross presided in the surgical amphitheatre at Jefferson Medical College. The patient, a young man with a severe leg injury, is being tended to by five doctors; the imposing man standing is no other but Dr. Samuel Gross. To his right is the anaesthetist, pressing a cloth dampened with chloroform over the patient's face. Dr. James M. Barton, Chief of Clinic, surveys the incision with the aide of his assistant who is holding down the patient's legs. Another doctor is utilizing the retractor to keep the incision open for the surgery. In the background, a figure at the desk is keeping record of the proceedings. To Gross's left, a woman sits and covers her eyes, a gesture implying that she is emotionally upset; she is deemed to be the patient's mother. Dr. Gross appears to be assertively addressing his students; at the right edge of the canvas sits the artist himself, Thomas Eakins.
Master artist Eakins illuminated the scene using an overhead lighting perspective, creating particular shadowing effects that give the composition an aura of power, confidence and knowledge.
Reviews
"It is Gross's face that holds you, his forehead caught by light from above, a glowing white star fringed with silver and grey, and the black pits of his eyes, their darkness only heightened by the light. He has paused for a moment to explain a detail of the procedure to the students all around him in the shadows of the theatre. The painting does not freeze the moment so much as expand it infinitely: there is a massive, grand stillness to this imposing canvas in which you contemplate with awe the dominating, dignified figure of the surgeon, all in black, except for the shocking shining red blood on his right hand as he holds the scalpel like a pen, or perhaps a palette knife." – Jonathon Jones (The Guardian)
When 'The Gross Clinic' was first exhibited in 1876, the response was mixed. Many critics felt the scene of blood was grotesque, while others opined that it was truly "human." Perhaps its less-than-delicate title biased the viewers.
The controversial painting was originally sold to the Jefferson Medical School for $200.00; it was sold again in 2007 to the Philadelphia Museum of Art in the U.S.A. for a whopping $68 million, where it is still located today.

Home | Art Prints | Art Movements | Famous Artists | Articles