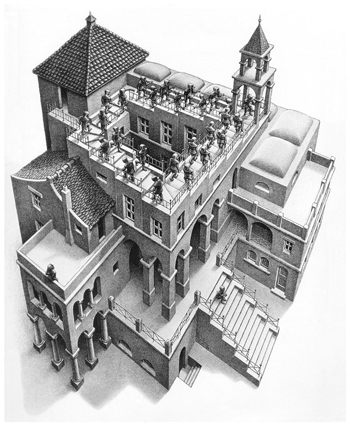 | | |
| --- | --- |
| Artist: | M.C Escher |
| Created: | 1960 |
| Dimensions (cm): | 28.5 x 35.5 |
| Format: | Lithograph |
| Location: | The National Gallery of Canada |
Ascending and Descending
World renowned Dutch artist, M.C. Escher, was notable for his mathematically and artistically devised works of art. 'Ascending and Descending' is no exception. Created in 1960, this enigmatic lithograph is one of Escher's most famed and recognizable works.
At the summit of a large castle-like building is an endless staircase on which a continuous procession of monks is climbing up the steps, while another similar line is coming down. The effect is fascinating; a never-ending spiral is produced, causing the figures to appear engaged in a perpetual journey that promises no destination. Our perspective of the structure is from a bird's eye view, which accentuates the composition's uniqueness; it stands as not only intriguing but also oddly unsettling.
History of the Artwork
M.C. Escher based 'Ascending and Descending' on the "Penrose Stairs" created by psychiatrist, geneticist, mathematician, and chess theorist Lionel Penrose, and his son Roger. Penrose, an ardent admirer of Escher, was initially inspired by the Dutch artist when he viewed his work at the International Congress of Mathematicians in Amsterdam in 1954. Finally creating and publishing the "Penrose Stairs" in the British Journal of Psychology, the Penroses sent a copy of the article to Escher as a gesture of high regard.
Escher, captivated by the innovative design of the endless stairs, wrote a letter to the Penroses in April of 1960: "Your figures 3 and 4, the 'continuous flight of steps', were entirely new to me, and I was so taken by the idea that they recently inspired me to produce a new picture, which I would like to send to you as a token of my esteem. Should you have published other articles on impossible objects or related topics, or should you know of any such articles, I would be most grateful if you could send me further details."
About the Artist
M.C. Escher (born Maurits Cornelis Escher) was known as one of the world's most famed graphic artists. Creating approximately 448 lithographs, woodcuts, wood engravings, as well as over 2000 drawings and sketches, Escher is perhaps most admired for his mathematical ingenuity in his "impossible" art works such as 'Ascending and Descending'. In addition to being a successful graphic artist, Escher was also an acclaimed illustrator, tapestry designer, postage stamp artist, and mural artist.
'Ascending and Descending' is housed at the National Gallery of Canada in Ottawa, Canada - a gift from George Escher, Mahone Bay, Nova Scotia, in 1983.

Home | Art Prints | Art Movements | Famous Artists | Articles