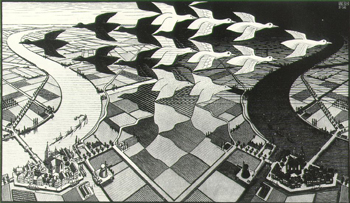 | | |
| --- | --- |
| Artist: | M.C Escher |
| Created: | 1938 |
| Dimensions (cm): | 67.7 x 39.1 |
| Format: | Woodcut in black and gray, printed from two blocks |
| Location: | Cornelius Van S. Roosevelt Collection |
Day and Night
Dutch artist and mathematician M.C. Escher created 'Day and Night' in 1938. This stimulating, yet intriguing work of art is a masterful demonstration of symmetrical opposites, resulting in an artistic puzzle that captivates the viewer.
The left side of the painting shows a daytime setting within which a long, winding canal running through a small city is bright white, lit up by the daylight sky. The right side of the painting displays the exact opposite: a night scene of the same angle, wherein the canal and sky are black, including the miniature city. Beginning at the centre of the landscape, white birds from the daylight emerge into the fold of the night sky, while the dark birds of night flock to the daytime sky. The whole creates a bewildering pattern of black and white tiles in the center of the image, a composition that delivers a unique positive-negative geometric aspect to 'Day and Night'.
'Day and Night' is one of M.C. Escher's first pieces to show the influence of Moorish tile work. (National Gallery of Art)
About the Artist
M.C. Escher (born Maurits Cornelis Escher) was known as one of the world's most famed graphic artists. Over the period of his career, Escher created approximately 448 woodcuts, wood engravings, lithographs, as well as over 2000 drawings and sketches. His mathematical inventiveness in his distinctive geometric art works such as 'Day and Night', have intrigued and inspired viewers across the globe. In addition to being a successful graphic artist, Escher was also a celebrated illustrator, tapestry designer, postage stamp artist, and mural artist.
Exhibition History
• 1995 - M.C. Escher: Landscape to Mindscape, National Gallery of Canada, Ottawa, 1995-1996. p.18, no.17.
• 1997 - M.C. Escher: A Centennial Tribute, National Gallery of Art, Washington; San Diego Museum of Art; The Chrysler Museum of Art, Norfolk, 1997-1999.
• 2000 - "M.C. Escher", Knoxville Museum of Art, 2000.
'Day and Night' is part of the Cornelius Van S. Roosevelt Collection.

Home | Art Prints | Art Movements | Famous Artists | Articles