FAIRIES and FANTASY in ART - ESCAPISM
Mythical, mystical and fanciful, fairies have always been a fascinating part of the arts. Since the days of early Victorian art in Britain, fairy painters have had great success in captivating the world. Why? Because fairy fantasy art can be compared to a soap opera, which offers temporary release from a desolate existence by way of the imagination.
One of the earliest artists closely associated with fairy painting was Richard Dadd, a convicted murderer. His creative and meticulous style was very popular with reviewers, who described his fairy art as "exquisite". He produced most of his work while confined in the Bethlem Psychiatric Hospital for the murder of his father.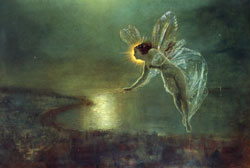 Undoubtedly, the fantasy world he created for himself was an escape route that took him away from the dire circumstances he lived in.
Highly imaginative William Blake included fairy metaphors and teachings into his individual theory on fantasy, defining them as innate essentials of nature. He visualized them with wings, and introduced this element into his work with watercolour.
Symbols and Messages
Fairy fantasy art is not only legendary but also controversial and meaningful. It comprises various thematic elements and significant traits. It is commonly seen as magical and supernatural, projecting a comfortable and innocent environment, an escape from the ambiguous trials of reality. However, it also owns a dark side, typically evident as in the laws of nature which encompass both good and evil. Interpretation is left to the viewers.
Depicted in many forms and with many characteristics such as long pointed ears, large eyes, wings, and elongated bodies, fairies are undeniably intriguing figures. Over the years, they have inherited many titles: air spirits, gnomes symbolizing the earth, nymphs representing water, as well as enchanters, sylphs, and fauns. Other spirits such as elves, trolls, sirens, and imps are of the more common variety.
Today's Fairy Fantasy Art
Fairies have long been a profound inspiration in fantasy art and spiritual imagery, depicting tiny, modified human forms of mystical importance. And although these creatures are fictional, they are still very much a part of today's art and literature.
Depictions of fairies and fantasy art can be found in the 'Spiderwick' series for children, a recent adaptation by Holly Black, and illustrated by Tony DiTerlizzi. As in most fantasy series, fairies have not only followed the trend of original imagery introduced in the Victorian era, but have also transcended into new species of mythical creatures, taking on the forms of sprites, pixies, and goblins.
Following a chance meeting with Myrea Pettit, a fairy artist, David Riche, well-known supporter of fantasy artists, and often referred to as 'Fairy Godfather', brought world-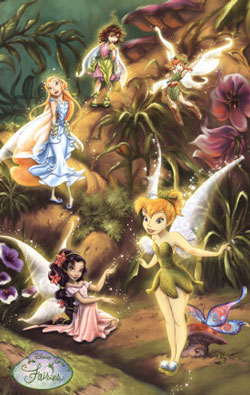 wide recognition to fairy art and fantasy. His spiritual message, promoting a greater understanding of fairies as nature's representatives, is conscientiously combined with the importance of protecting mother earth.

Growing in Popularity

Since the early 1970's, the combination of vivid imagination with recent internet technology has sparked a renewed interest in the fantasy world, creating an international fellowship amongst talented fantasy fairy artists. Their creativity takes on many faces and moods that can be displayed in any style of environment.

Though fairies are often associated with feminine attributes, showing young sprites dressed in filmy and sensual attire in the midst of a marvellous world, such as those portrayed in Warwick Goble's, 'Three Spirits Filled with Joy', a new concept is emerging due to the ongoing development of computerized fantasies. Strong and noble male fairies, warriors of the fairy species are changing the public's general view of fantasy art. A definite trend adopting more aggressive male fairy action in art is now apparent. Nevertheless, the most famous male fairy continues to be Peter Pan, created by novelist and playwright J. M. Barrie (1860–1937).

The ever-increasing demand for fairy fantasy art is a clear sign of its rising popularity with adults and children alike. Although a childhood phenomenon throughout the last several decades, fairies have evolved in order to become part of the adult world, and so as to continue their mission of providing an escape from reality. Is it not an innate human desire to live in a whimsical, imaginary world, just for a little while?

Definition of Fairy – "A tiny supernatural being in human form, typically female and depicted as clever, mischievous, and capable of assisting or harassing humans." Reader's Digest illustrated encyclopaedic dictionary.


.

---
Donovan Gauvreau
Art Historian, Donovan Gauvreau lectures about art therapy with a focus on creativity development. He believes we can learn from the great masters in art to communicate ideas and feelings through painting. He provides content for www.AaronArtPrints.org to educate and inspire people to take a glimpse into an artist's life to better understand the meaning behind their work.
Home | Art Prints | Art Movements | Famous Artists | Articles