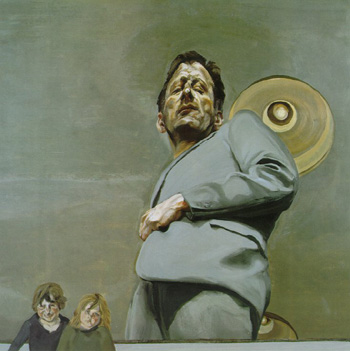 | | |
| --- | --- |
| Artist: | Lucian Freud |
| Created: | 1985 |
| Dimensions (cm): | 51.2 x 56.2 |
| Format: | Oil on canvas |
| Location: | Private collection |
'Reflection with Two Children (Self Portrait)' is an oil painting created by Lucian Freud in 1965. The artist produced this painting's unusual point of view by placing a mirror on the floor at his feet, which allowed him to paint the ceiling as though it surrounded him. Using a palette knife for the background, he swirled the paint against the canvas to create the illusion of a grey and voluminous void. The lamp at the top of the picture skilfully reveals the height of the ceiling. The two small children depicted in a rather odd, small-scale size are his own children, Rose and Ali Boyt. His vision was inspired by the painting of the tomb of the dwarf seneb that is kept at the Cairo Museum in Egypt. The immensity of his self portrait juxtaposed against the smallness of his children may very well be representative of Freud's sense of importance. 'Reflection with Two Children (Self Portrait)' seems to warn its viewer of the dominant man on the canvas, a man not to be reckoned with.
Analysis and Reviews
Clearly promoting the belief that much more than a picture can be seen in his paintings, Lucian Freud stated, "Everything is autobiographical and everything is a portrait."
Peter Schjeldahl, art critic of the New Yorker Magazine, reviewed Freud's painting 'Reflection with Two Small Children (Self Portrait)' in a 2002 exhibition, and remarked: "Freud's self-portraits are pictures about the ordeal of ambition. They put the artist not only on view but on trial. Is he measuring up? In a bizarre painting from 1965, Reflection with Two Children, he (the artist) looms as a truculent but anxious giant, looking himself in the eye. The children—his daughters—appear as tiny, marginal images, suggesting remote concerns."
'Reflection with Two Children (Self Portrait)' is currently located at Museo Thyssen-Bornemisza in Madrid, Spain.
Home | Art Prints | Art Movements | Famous Artists | Articles