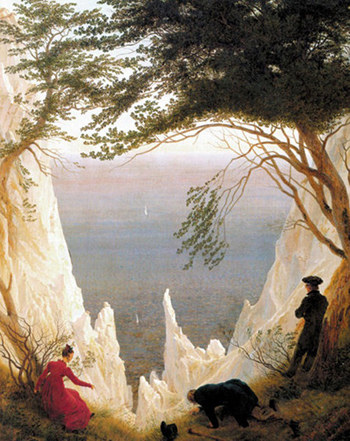 | | |
| --- | --- |
| Artist: | Caspar David Friedrich |
| Created: | 1818-19 |
| Dimensions (cm): | 71.0 x 90.5 |
| Format: | Oil on canvas |
| Location: | Stiftung Oskar Reinhart, Winterthur, Switzerland |
Chalk Cliffs on Rugen
Caspar David Friedrich painted 'Chalk Cliffs on Rugen' between 1818 and 1819 with oil on canvas. This magnificent scene is representative of Friedrich's recollection of a special moment during his honeymoon with Caroline Bommer in January of 1818. It is widely accepted that the figures in 'Chalk Cliffs on Rugen' are the artist's wife, his brother, and of Friedrich.
The cliffs depicted in 'Chalk Cliffs on Rugen' are located on a German island in the Baltic Sea. The painting is a breathtaking display of an endless horizon that lures viewers towards the perilous cliffs. Friedrich's wife Caroline precariously leans over the abyss and points downward while hanging onto a small bush. His brother Christian stands tall, trusting the young tree in front of him to bar his fall. The most significant and intriguing figure is Friedrich. He has knelt on the ground in order to get an unimpeded view of whatever has captivated his wife's attention. We can assume that he has taken into consideration the great risk as he has removed his hat and set it at his side.
While Caspar David Friedrich was immensely talented in creating outdoor landscapes of both land and sea, the focus of his paintings was rarely solely on the view. The onlookers of 'Chalk Cliffs on Rugen' are inadvertently pulled towards the cliffs; a deep curiosity is instilled in them to peer over the edge, as Friedrich did. Many viewers entertain this question: What is beyond?
Review
"Facing into the picture, Friedrich's motionless, reverent figures have long been seen as surrogates for the viewer. They grant us our privacy while maintaining their own in the contemplation of nature's inspiring and indifferent grandeur. In a moment as suddenly and violently riven as our own, these works may provide some viewers with a small measure of solace." – Roberta Smith (New York Times Art Review)
'Chalk Cliffs on Rugen' by Caspar David Friedrich is currently located at the Stiftung Oskar Reinhart, Winterthur in Switzerland.

Home | Art Prints | Art Movements | Famous Artists | Articles