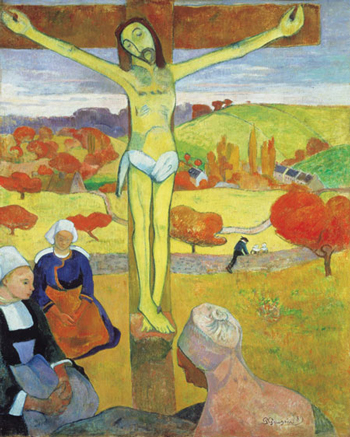 | | |
| --- | --- |
| Artist: | Paul Gauguin |
| Created: | 1889 |
| Dimensions (cm): | 73.4 x 92.1 |
| Format: | Oil on canvas |
| Location: | Albright-Knox Art Gallery, Buffalo, USA |
The Yellow Christ (Le Christ Jaune)
Paul Gauguin painted 'The Yellow Christ', or as it is known in its original French language, 'Le Christ Jaune', in 1889. This somewhat disturbing oil painting depicts a gaunt, crucified Christ, awaiting his inevitable death. Perhaps even more shocking are the blank facial expressions of the figures surrounding him. Although one woman is bowing her head, it is impossible to determine whether it is in reverence, prayer, or indifference. No significant emotion is displayed; hence, intrigue permeates the scene.
The overall color tone of 'The Yellow Christ' is as its title dictates, varying yellows, with some interspersed orange hues. In general, this color scheme evokes feelings of joy and cheerfulness in viewers, but Paul Gauguin's morbid theme dulls any potential gaiety. It is widely accepted that the facial features of the man on the cross are those of the artist. Many historians believe that Gauguin painted his own face as the face of Christ because he felt that, like Christ, he had suffered and was still suffering – he endured the many woes of an artist.
Analysis
"Later in his career, as one of the four famous so-called postimpressionists, he [Gauguin] rejected the idea of seeing and capturing fleeting changes in color and light, and instead began to choose colors, shapes, and compositions based on his own feelings and opinions. This resulted in a style that was more abstract than most European painters of his time. For example, in The Yellow Christ, we can see that the color of Christ's complexion is not intended to accurately depict a real skin tone; the length of Christ's limbs and body are exaggerated; and the actual crucifixion of Christ had, of course, never happened in Brittany in 1889." – Albright-Knox Art Gallery
'The Yellow Christ' by Paul Gauguin is currently located at the Albright-Knox Art Gallery in Buffalo, NY, U.S.A.

Home | Art Prints | Art Movements | Famous Artists | Articles