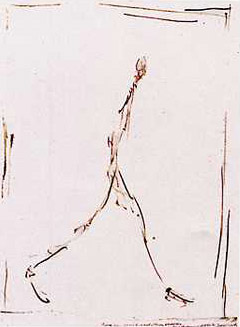 | | |
| --- | --- |
| Artist: | Alberto Giacometti |
| Created: | 1964 |
| Dimensions (cm): | 32.5 x 31.5 |
| Format: | Drawing |
| Location: | Louisiana Museum of Modern Art, Humlebæk, Denmark |
Walking Man
"In every work of art the subject is primordial, whether the artist knows it or not. The measure of the formal qualities is only a sign of the measure of the artist's obsession with his subject; the form is always in proportion to the obsession." – Alberto Giacometti
Alberto Giacometti first sketched 'Walking Man' (in French 'L'Homme qui Marche') in 1964 as part of his famous 'Walking Man' (L'Homme qui Marche) series. The series consisted of many drawings and paintings, but became most renowned for its sculptures.
The man in the sketch strides forward with a wide leg span, as though very determined to reach his destination. Some art critics and viewers alike opined that it was the portrayal of a man rising from the ashes of the Holocaust, while others felt it to be a representation of a man walking the endless cycle of spiritual achievement. Many concluded that it is the very ambiguity of the image that gives it such power. Regardless of its meaning, this sketch is undeniably an interesting first glance at the ideas that Alberto Giacometti pondered before creating the famous sculptures that continue to lure visitors worldwide.
Analysis/Review
"Giacometti's L'homme qui marche [The walking man] in and of itself symbolizes the very nature of this century; it expresses all the difficulty of being, the complexity and unity of life, the strange and almost impossible task of encountering the Other, the solitude that inhabits this ending millennium, but it also expresses (in this space that borders on nothingness) the dignity of a man facing himself, walking toward a new destiny, standing, facing hope." – Jean Louis Prat
The 'Walking Man' sculpture, as well as many of Alberto Giacometti's sketches and drawings, is currently located at the Louisiana Museum of Modern Art in Denmark.
Home | Art Prints | Art Movements | Famous Artists | Articles