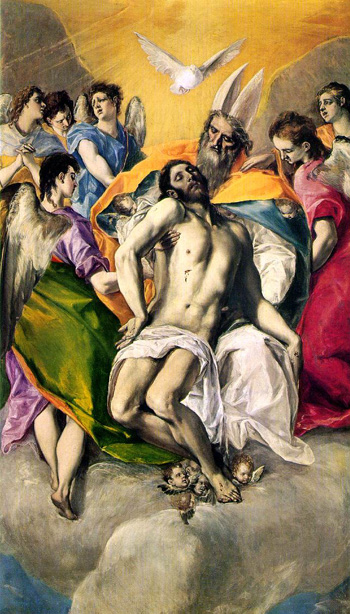 | | |
| --- | --- |
| Artist: | EI Greco |
| Created: | 1577-8 |
| Dimensions (cm): | 179.0 x 300.0 |
| Format: | Oil on canvas |
| Location: | Museo del Prado, Madrid, Spain |
The Holy Trinity
'The Holy Trinity' was painted in approximately 1577-78 by El Greco, whose real name was Domenikos Theotocopoulos. The artist was commissioned by Santo Domingo el Antiguo in Toledo, Spain, to create a work of art that was to be hung in the attic of the High Altarpiece. It was to be displayed above "The Assumption" (a painting also completed in 1577 by El Greco). The painting received great praise, earning the artist numerous other commissions, which provided him with a successful and rewarding career.
'The Holy Trinity' depicts Jesus Christ ascending into heaven from his perilous journey on Earth. The trinity is represented by God the Father, his Son Jesus, and the Holy Spirit symbolized as a dove. Six grieving angels watch over the upraising of the body, while small, cherub faces are gathered at his feet. El Greco skilfully managed to capture the dead weight of Christ's body as he is held up by his father's arms. This effect is achieved by placing the elongated figure at an awkward angle. The painting's hues dictate that the darker colors at the bottom are meant to signify the mortal realm, while the bright yellow sky above represents heaven. After the completion of 'The Holy Trinity', El Greco never painted another picture of this subject again.
Analysis and Reviews
Commenting on the painting, Jonathon Brown (The Golden Age of Painting in Spain) states, "The basic composition comes from a print by Dürer, and the position of Christ's right arm depends on Michelangelo's statue of Duke Lorenzo de'Medici, in the Medici Chapel, Florence. However, the brilliant, original colors and the convincing emotion imparted to the figures subsume the sources into a moving example of religious art."
With respect to the artist's style - "El Greco's elongated figures, ever straining upward, his intense and unusual colors, his passionate involvement in his subject, his ardour and his energy, all combine to create a style that is wholly distinct and individual. He is the great fuser, and also the transfuser, setting the stamp of his angular intensity upon all that he creates." (Sister Wendy's Story of Painting)
'The Holy Trinity' is currently located at the Museo Nacional del Prado, Madrid, Spain.
Home | Art Prints | Art Movements | Famous Artists | Articles