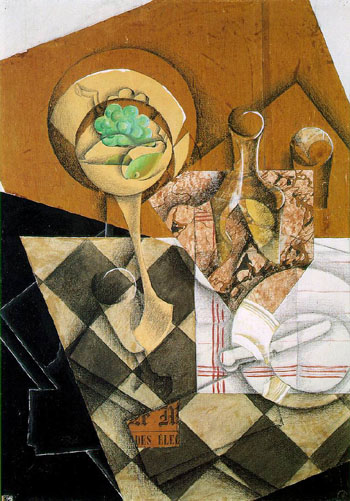 | | |
| --- | --- |
| Artist: | Juan Gris |
| Created: | 1914 |
| Dimensions (cm): | 65.0 x 92.0 |
| Format: | Oil, papier colle and charcoal on canvas |
| Location: | Rijksmuseum Kroller-Muller, Otterlo, Netherlands |
In 1914, Juan Gris, born Jose Victoriano Gonzalez in Madrid, Spain, created 'Fruit Dish and Carafe', an art work almost entirely covered with overlapping paper. The depicted carafe was created from various superimposed materials such as faux bois wallpaper and faux marbre, in order to produce a textured appearance. He then overlapped transparent paper over it to enhance the effect of glass, and used charcoal and oil paint as well for added texture. Inspired by his close friend Henri Matisse, Gris developed his personal synthetic cubism style; his collages were bold with bright colors and unique textures.
Due to his personalized style of cubism, he was commissioned to design ballet sets and costumes for the famous Ballet Russes, which premiered in 1924. It was in 1923 that Gris had his first exhibition, which would be his only one outside of France. Gris died in 1927 of uraemia at the young age of 40 years old.
Analysis and Reviews
"Juan Gris was a quietist, whose life was ostensibly marked by few major incidents. Though not the inventor of Cubism, he was one of its most able practitioners and evolved a very personal variety of it, combining elements which he had learned from Braque and Picasso with others which were his own personal invention. Typical of his approach was his remark about Cezanne, the universally acknowledged father of Cubism: 'Cezanne made a cylinder out of a bottle. I start from the cylinder to create a special kind of individual object. I make a bottle out of a cylinder.'" - Edward Lucie-Smith (Lives of the great 20th-Century Artists)
"Cubism is not a style, but an aesthetic, even a mental state." – Juan Gris
Of interest to art lovers and collectors: before 2005, one of Gris' paintings sold for more than US $69 million dollars. 'Fruit Dish and Carafe' is currently located in Rijksmuseum Kroller-Muller, Otterlo, Netherlands.
Home | Art Prints | Art Movements | Famous Artists | Articles