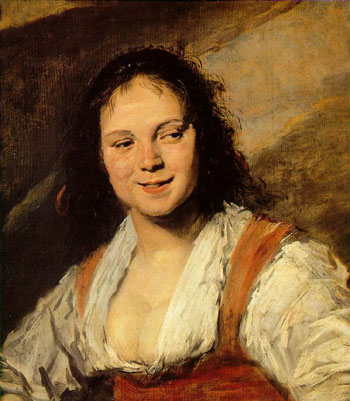 | | |
| --- | --- |
| Artist: | Frans Hals |
| Created: | 1628-30 |
| Dimensions (cm): | 52.0 x 58.0 |
| Format: | Oil on wood |
| Location: | Musee du Louvre, Paris, France |
Gypsy Girl
'Gypsy Girl' (also known as 'Bohemian') is an oil painting on wood created by Frans Hals in approximately 1628-1630. It depicts a young gypsy wench who appears to be slightly leaning her right arm on a table or counter, and bears a sly and somewhat mischievous smile on her face. Each brush stroke has been exquisitely executed as to create a particular elegance to her burly physique. She seems to be facing a window that illuminates her face, drawing the viewer's attention to her voluptuous breasts. She dons a red overdress, with a low-cut white shirt underneath. Hals well-known portraiture talents are most apparent in 'Gypsy Girl' as he masterfully contrasts her hardened street-smart appearance with the soft, natural beauty of her inner self. She seems happy with her life.
Frans Hals did not prefer a particular type of model; he painted all classes from the lower to the upper. Due to his unique artistic style, he left no followers, but he did inspire Edouard Manet and Adriaen Brouwer.
Analysis and Reviews
"The portraits of Hals give us the impression that the painter has 'caught' his sitter at a characteristic moment and fixed it for ever on canvas. It is difficult for us to imagine how bold and unconventional these paintings must have looked to the public. The very way in which Hals handled paint and brush suggests that he quickly seized a fleeting impression." - E.H. Gombrich (The Story of Art)
'Gypsy Girl' or 'Bohemian' by Frans Hals is currently located at the Musee de Louvre, Paris, France.
Home | Art Prints | Art Movements | Famous Artists | Articles