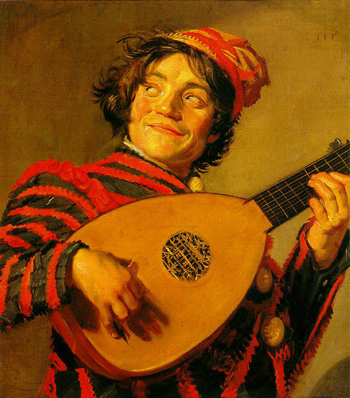 | | |
| --- | --- |
| Artist: | Frans Hals |
| Created: | 1624-25 |
| Dimensions (cm): | 62.0 x 71.0 |
| Format: | Oil on wood |
| Location: | Musee du Louvre, Paris, France |
Jester with a Lute
Frans Hals painted 'Jester with a Lute', also known as 'Buffoon with a Lute', in approximately 1624-1625 with oil on wood. The painting depicts a young jester, donning a merry and mischievous grin as he plays a melody on his lute. The frame is very tight, causing the subject to appear larger than life. His body is slightly twisted and his eyes are looking up, which gives a significant animated essence to the painting. While the model's identity is uncertain, it is known that this was not the only time that Hals portrayed him, for he is seen in numerous other art works by this artist.
The background of 'Jester with a Lute' is an earthy neutral tone which adds emphasis not only to the jester's colourful attire, but also to his vibrant character. The positioning of the musician's fingers on the lute is remarkably precise, suggesting that Frans Hals was privy to a musical environment. The jester's facial expression is rather smug, perhaps due to the attention he is receiving from his audience, or perhaps he knows something that we don't know. Whatever he might be thinking, Hals mastered his ability to evoke curiosity from his viewers. It is believed that Hals's intention was to reference the theatre world in all of its glory; from the elaborate costumes to the joyful presence of music and high spirits.
Analysis
"Hals's debt to the Utrecht Caravaggists is evident in his life-size genre pictures of musicians, drinkers, actors, and children of the 1620s and 1630s. But there are some significant differences. Hals was never fascinated by the experiments the Caravaggesque painters conducted with dramatic chiaroscuro effects produced by artificial light. The instantaneous expressions of his subjects never freeze into grimaces, and even when his models are dressed in costumes, he never creates the impression that they are posing in a studio; he always convinces us that we are watching a fleeting moment of life." – Referenced from The Web Gallery of Art
'Jester with a Lute' by Frans Hals is currently located at the Musée du Louvre in Paris, France.

Home | Art Prints | Art Movements | Famous Artists | Articles