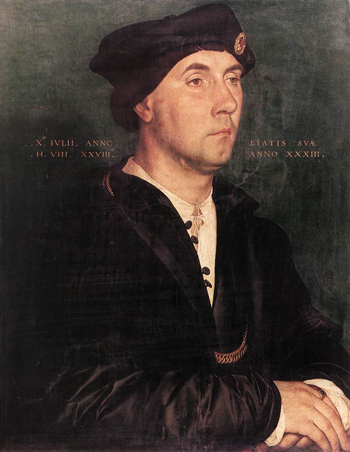 | | |
| --- | --- |
| Artist: | Hans Holbein |
| Created: | 1536 |
| Dimensions (cm): | 38.0 x 47.5 |
| Format: | Oil on wood |
| Location: | Uffizi, Florence, Italy |
Sir Richard Southwell
Hans Holbein painted the portrait of 'Sir Richard Southwell' in 1536 with oil on a wood panel. The cold, piercing stare of one of the most treacherous members of the court of the infamous Henry the VIII cannot be misjudged. Holbein masterfully and purposefully depicted the dark inner soul of Sir Richard Southwell without fear of appearing contemptuous of the man's outrageous character.
Sir Richard Southwell dons fine clothing made of the best quality fabrics, as usually appointed to the members of the royal court. His hands are elegantly folded, and he wears a ring on his right index finger. While the posture and presentation of Mr. Southwell are common in the portraiture of court officials, they nevertheless evoke intense negative emotions from the viewer. One can easily surmise the man's ominous thoughts and plans as he sits for his royal portrait. The subject emits arrogance.
The charcoal background not only produces a sinister aura, but also brings to attention the meticulous details of the figure. Southwell's raised eyebrows suggest the strain of his thought process, while his pursed lips signify tension and stress. Hans Holbein utilizes subtle shadows and lighter hues to accentuate the milky skin, and skillful brushstrokes to reveal the texture of the clothing.
Analysis
With regard to Sir Richard Southwell's portrait: "There is nothing dramatic in these portraits of Holbein, nothing to catch the eye, but the longer we look at them the more they seem to reveal of the sitter's mind and personality. We do not doubt for a moment that they are in fact faithful records of what Holbein saw, drawn without fear or favor. The way in which Holbein has placed the figure in the picture shows the sure touch of the master. Nothing seems left to chance; the whole composition is so perfectly balanced that it may easily seem 'obvious' to us. But this was Holbein's intention." – E.H. Gombrich "The Story of Art" (excerpt from Artchive.com)
'Sir Richard Southwell' by Hans Holbein is located at the Uffizi in Florence, Italy.

Home | Art Prints | Art Movements | Famous Artists | Articles