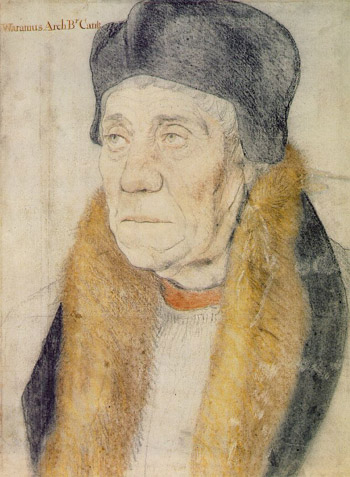 | | |
| --- | --- |
| Artist: | Hans Holbein |
| Created: | 1527 |
| Dimensions (cm): | 30.9 x 40.7 |
| Format: | Black, white and colored chalks, with traces of metalpoint |
| Location: | The Royal Collection, Windsor Castle |
William Warham, Archbishop of Canterbury
Hans Holbein, who is more commonly referred to as Hans Holbein the Younger, created 'William Warham, Archbishop of Canterbury' in 1527 with chalk and traces of metal point. Although this technique is uncommon today, many of the great art masters used it to achieve strikingly beautiful lines that would produce ethereal effects to the image.
The subject, William Warham, was the Archbishop of Canterbury from 1504 until his death on August 22, 1532. His attire, more specifically the trimming on his collar, symbolizes the important ranking he holds amid his religious organization. He fixes a slightly upward glance, which adds a subtle energy to his otherwise forlorn gaze. Warham requested that Holbein paint him in the same pose as "Erasmus", a painting that the artist had created in 1523. 'William Warham, Archbishop of Canterbury' was the preparatory stage to the famed painting located at the Louvre in Paris.
Analysis and Reviews
Concerning the many portraits that Hans Holbein created over the length of his career, an excerpt from the book "The Story of Art" by E.H. Gombrich states the following: "We do not doubt for a moment that they are in fact faithful records of what Holbein saw, drawn without fear or favor. The way in which Holbein has placed the figure in the picture shows the sure touch of the master. Nothing seems left to chance; the whole composition is so perfectly balanced that it may easily seem 'obvious' to us. But this was Holbein's intention. The older he grew and the more mature his art became, the less did he seem in need of any such tricks. He did not want to obtrude himself and to divert attention from the sitter. And it is precisely for this masterly restraint that we admire him most."
'William Warham, Archbishop of Canterbury' by Hans Holbein is a part of The Royal Collection in Windsor Castle, England.
Home | Art Prints | Art Movements | Famous Artists | Articles