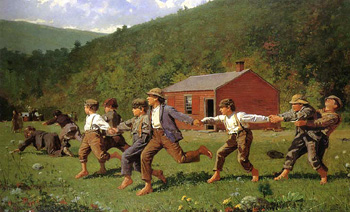 | | |
| --- | --- |
| Artist: | Winslow Homer |
| Created: | 1872 |
| Dimensions (cm): | 91.4 x 55.9 |
| Format: | Oil on canvas |
| Location: | Butler Institute of American Art, Youngstown, Ohio, USA |
Perhaps Winslow Homer's most beloved and popular painting was 'Snap the Whip', created with oil on canvas in 1872. The historic painting depicts nine young boys playing the age-old game entitled 'Snap the Whip'. The children are pulling and tugging each other back and forth, while the two at the end of the line have fallen over. The soft, glow of sunlight that peaks through the clouds illuminates their faces. Their clothing, more specifically their caps, suspenders, and short pants, reflects true late 1800 American attire. Featured in the background is the familiar little red school house; the school teachers in the distance are most likely meant to be supervising the usual recess activity. The scenic landscape of trees and wildflowers bordering a small field is so realistic that the viewer can almost hear the chirping of the birds and the buzzing of the insects. Winslow Homer created a second, much smaller version of this painting, replacing the mountain range in the background with a wide, blue sky. 'Snap the Whip' was a huge success for the artist, and the painting was frequently reproduced. It was displayed at the 1876 Centennial Exposition in Philadelphia.
Analysis and Reviews
Robert Hughes (Nothing If Not Critical: Selected Essays on Art and Artists) once said, "Some major artists create popular stereotypes that last for decades; others never reach into popular culture at all. Winslow Homer was a painter of the first kind. Even today, 150 years after his birth, one sees his echoes on half the magazine racks of America."
Henry James once stated of Winslow Homer's work, "We frankly confess that we detest his subjects...he has chosen the least pictorial range of scenery and civilization; he has resolutely treated them as if they were pictorial...and, to reward his audacity, he has incontestably succeeded".
What is the value of a Winslow Homer painting?
In 1998, one of Homer's paintings entitled "Lost on the Grand Banks" sold for approximatly 30 million dollars! It is estimated that Homer created 600 works of art, but very few are owned privately; most are safely kept in museums. 'Snap the Whip' is currently located at the Butler Institute of American Art, Youngstown, Ohio.
Home | Art Prints | Art Movements | Famous Artists | Articles