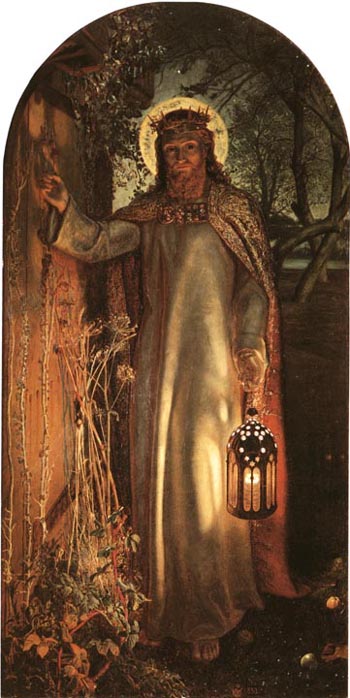 | | |
| --- | --- |
| Artist: | William Holman Hunt |
| Created: | 1851-53 |
| Dimensions (cm): | 59.7 x 125.4 |
| Format: | Oil on canvas over panel |
| Location: | Keble College, Oxford, England |
Perhaps the most famous work of William Holman Hunt is deemed to be 'The Light of the World', a painting created between 1851 and 1853, which embodies a deeply symbolic and spiritual journey by the artist. The painting depicts Jesus knocking on an old wooden door that is covered with overgrown foliage and dead leaves from the trees behind him. The door is meant to be a symbol for the human mind, at which Jesus awaits to be let in. He holds a glowing lantern, remarkable in its detail and golden tones. The light shines brightest near his hands, and reflects onto the door, softly illuminating his face. William Holman Hunt painted 'The Light of the World' as a symbolic interpretation of a bible passage, Revelation 3:19-21: "Behold, I stand at the door and knock; if any man hear my voice, and open the door, I will come in to him, and will sup with him, and he with me." It has been speculated by many art critics, and viewers as well, that the door does not have a handle because it is meant to symbolically convey the message that Christ can only enter if we open our minds to him.
History of 'The Light of the World'
Once Hunt completed the painting, which was created in the Church of St. Mary the Virgin, in Ewell, its fame immediately engendered his successful career. It was toured around the world, and became so popular that the artist was asked to create a much larger version, which now hangs in St. Pauls Cathedral in London, England.
Analysis and Quotes
William Holman Hunt's comments on the painting: "I painted the picture with what I thought, unworthy though I was, to be by Divine command, and not simply as a good subject."
In an 1887 art review of Hunt's era, George Dawson MA said, "I regard 'The Light of the World' as the finest picture ever painted by an Englishman. It is really a painted text, a sermon on canvas."
Undoubtedly, the painting's impact on the world was significant. The original is currently located in Keble College, Oxford, England.
Home | Art Prints | Art Movements | Famous Artists | Articles