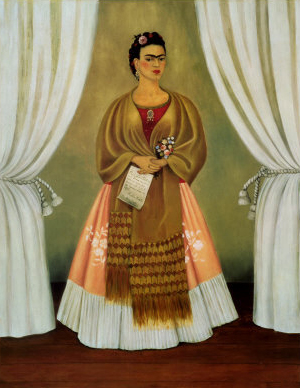 | | |
| --- | --- |
| Artist: | Frida Kahlo |
| Created: | 1937 |
| Dimensions (cm): | 61.0 x 76.2 |
| Format: | Oil on Masonite |
| Location: | National Museum of Women in the Arts, Washington, USA |
Self-Portrait (Dedicated to Leon Trotsky)
Frida Kahlo often opened her heart within her paintings, demonstrating important moments or emotions of great significance in her life. 'Self-Portrait (Dedicated to Leon Trotsky)' was one such art work, created as a birthday gift for her secret lover, Leon Trotsky, a politician and revolutionary of Russian descent.
Kahlo's use of warm colors brings an impression of romance to the image; her long, flowing attire is made up of soft pinks, warm golds, and white, creating a beautiful aura of femininity and gentleness. On the other hand, with the hint of deep red at the top of her gown, she becomes seductive and self-confident. Her hair is adorned with flowers and red yarn or ribbon, rendering her elegantly attractive.
Given that Kahlo appears to be standing on a stage between two white floor-to-ceiling curtains, the painting is also known as "Between the Curtains". The composition is reminiscent of Mexican vernacular paintings called "retablos", which were devotional images of the Virgin or saints painted on tin. Kahlo was a collector of such art works.
In the painting, Kahlo's hands hold a bouquet of flowers and a letter, which was written with regard to her affection for Trotsky. It reads: "To Leon Trotsky, with all my love, I dedicate this painting on 7th November 1937. Frida Kahlo in Saint Angel, Mexico."
A Secret Love Affair
Frida Kahlo met Leon Trotsky in 1937, after the Russian politician was exiled. Trotsky fled his homeland and was granted asylum in Mexico after Kahlo's husband, Diego Rivera, persuaded the Mexican President to allow it. Trotsky and his wife were greeted by Kahlo and were given use of the "Blue House" where they took up residence. The two couples spent a lot of time together and by summer of the same year, Kahlo and Trotsky began a secret love affair. Kahlo was attracted to him due to his stature in society and in Diego's eyes. However, the affair was brief as Kahlo soon grew tired of Trotsky. After their fallout, she painted 'Self-Portrait (Dedicated to Leon Trotsky).
About the Artist
Frida Kahlo continuously gave her birth date as July 7, 1910; however, her birth certificate stated July 6, 1907. Purportedly, Kahlo wanted her birth to coincide with the onset of the Mexican revolution – she wished her life to begin with the birth of modern Mexico.
Over the course of her artistic career, Kahlo painted at least 140 paintings, of which 55 are self-portraits, as well as numerous drawings and studies. Her self-portraits are often deemed symbolic of her physical and psychological injuries; she once insisted "I never painted dreams. I painted my own reality."
Kahlo was famed for her artworks of indigenous traditions; she was also celebrated amongst many feminists for her depiction of the female psyche and form. Although her talent was obvious and indisputable, some believe that her marriage to the renowned painter, Diego Rivera, was partially responsible for her fame.
'Self-Portrait (Dedicated to Leon Trotsky)' is on permanent display at the National Museum of Women in the Arts, Washington, USA.

Home | Art Prints | Art Movements | Famous Artists | Articles