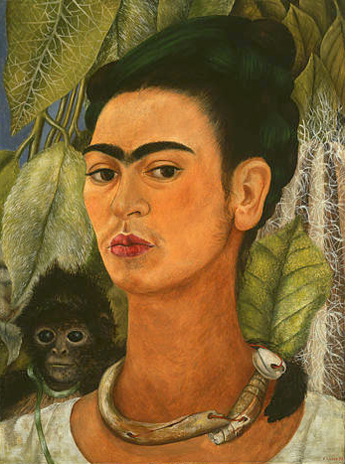 | | |
| --- | --- |
| Artist: | Frida Kahlo |
| Created: | 1938 |
| Dimensions (cm): | 30.5 x 40.6 |
| Format: | Oil on Masonite |
| Location: | Albright-Knox Art Gallery, Buffalo, USA |
In 1938, famous artist Frida Kahlo painted 'Self-Portrait with Monkey', a commissioned piece for A. Conger Goodyear, President of the Museum of Modern Art in New York.
History
As an intrigued spectator at her one-woman art show in October of 1938 at the Levy Gallery in New York, Goodyear wished to purchase Kahlo's "Fulang-Chang and I". However, the painting had already been promised to another patron. His determination to own a painting by Kahlo obtained him a discussion with Kahlo regarding the possible creation of a similar work of art. Only one week later, the artist had finished 'Self-Portrait with Monkey.'
Description
The painting reflects a stern-looking Frida Kahlo, with attention being drawn to her thick, dark-black, knitted-together eyebrows, her trademark feature. She dons a traditional Mexican necklace, and her hair is elegantly tied up into tight braids, revealing her long, graceful neck. Behind her is a thick jungle of oversized trees and hairy leaves, a significant confirmation of her love for the garden she maintained at the Blue House, where she was born and raised. The monkey reflects the great importance she placed on animals. It has been speculated that Kahlo was fond of the many animals that roamed the Blue House because they helped fill the void and loneliness she felt in her life.
Analysis and Quotes
Mike Gonzalez of "Socialist Review" reviewed a 2005 Frida Kahlo art show at the Tate Modern Gallery in England. He praised her independence in life, as well as her artwork, considering the fact that she was very much over-shadowed by her famous husband, Diego Rivera. "She is not a woman's painter (though she is a woman) or a feminist (though she fought long and hard for her own liberation from physical limitations and social restraints). She is a painter whose art itself is an act of defiance, a challenge, an affirmation of life - a 'bomb in velvet ribbons'."
'Self-Portrait with Monkey' is currently located at the Albright-Knox Art Gallery in Buffalo, New York.
Home | Art Prints | Art Movements | Famous Artists | Articles